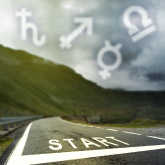 Weekly Astrology: September 14 - 20, 2015
This is just the beginning...

The atmosphere this week may go quickly from high hopes to deflated dreams. Fortunately there's a season and a reason for everything, and if you decide to accept the lesson that this shift in mindset brings, you can and will ultimately thrive. How? Read on...
Thursday, September 17: Jupiter opposite Neptune; Saturn enters Sagittarius; Mercury Retrograde in Libra
Everything happens on Thursday. First, Jupiter will oppose Neptune, casting a spell of unrealistic idealism around you. For a brief moment (most likely earlier in the week) you may initially feel as if you can simply wave a magic wand and -- POOF! -- your wish will be granted. Not so fast!
See how this week's energy will play out in your future with a Timeline Tarot reading.
Also on Thursday, a bigger and much more significant cycle begins, pulling you in a much weightier direction. Saturn, the planet of restriction and limitation, but also discipline and focus, will enter the philosophical sign Sagittarius. He will remain here until December 2017. The greater meaning of Saturn in Sagittarius is for us to learn how to manage our expectations without completely losing our faith. In essence, it's about learning how to provide a realistic structure around our beliefs -- to define them and then to follow through with sticking to them. You may begin to think that dreams are for fools and fairytales for suckers around this time and if so, your greatest challenge is to figure out a way to grow up and gain a sense of maturity without losing hope.
Mercury will also turn retrograde in partnership Libra on Thursday, casting a shadow of confusion in all communication-related endeavors until October 9. Have conversations, but avoid making any final negotiations or commitments until later next month. If you do, you might wind up feeling that at some point what you agreed to simply isn't fair.
Get your Timeline Tarot reading now to look beyond the chaos of the present moment »