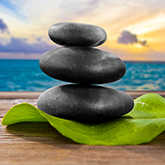 Weekly Astrology: September 15-21, 2014
Enjoy a cosmic "time out" to relax and renew

This week provides a reprieve from the recent overly busy cosmic collisions, allowing us to breathe ... finally! That is, until the weekend.
Starting Sunday, matters of the heart will be highlighted in a productive way.
See what's in store for you personally with a Weekly Forecast Tarot reading, and here's the lowdown on the key cosmic events the week of Sept. 15-21, 2014.
Sunday, Sept. 21: Venus sextile Saturn and Mars in Sagittarius square Neptune
On Sunday, love planet Venus in Virgo will be at a supportive sextile to Saturn. This will help you use your talents in a diligent and committed way to follow through on a vital work project.
In matters of the heart, Venus will be at a positive angle to Saturn, which supports you feeling valued and secure in a relationship. You know love is work, but you're not afraid to roll up your sleeves and do what's necessary to earn your heart's keep.
Also on Sept. 21, Mars in Sagittarius will square off with Neptune, and your actions may not be aligned properly with your visions. You might go about achieving your dreams in a sloppy, unfocused manner, or you might indulge in over-the-top, unrealistic fantasies.
Realize that pushing too hard under this influence may only result in you falling deeper and deeper into a pile of quicksand. Creative projects should go well, but anything more concrete should be put on hold until the following week.
See what's in store for you personally with a Weekly Forecast Tarot reading now »