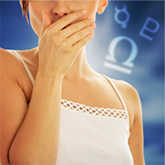 Weekly Astrology: Sept. 16-22, 2013
Connect with others this week, but watch your mouth

Your smart mouth might get you into trouble this week. Or, it could be the ticket to getting exactly what you want. It all depends on how you time your game. There's also a lot going on in the love department. And just when you thought you locked your monsters in the closet, Pluto will turn direct and turn the light on, forcing you to confront them once more.
See what's in store for you personally with a 30-Day Astrology Forecast, and here's the lowdown on the key cosmic events the week of Sept. 16-22, 2013.
Monday, Sept. 16: Mercury in Libra opposite Uranus in Aries
On Monday you may feel slightly off balance -- even off your game. Mercury will oppose Uranus, and while this pattern is known to bring flashes of insight your way, the manner in which you deliver information to others can be over-the-top.
Tuesday, Sept. 17: Mercury in Libra sextile Mars in Leo
Make a note of your brilliant ideas on Monday and save their execution for Tuesday, when Mercury makes a friendly sextile to Mars. Then you'll have the stamina to keep up with your brilliance.
Wednesday, Sept. 18: Venus conjunct Saturn in Scorpio and sextile Pluto
There will be headline news for everyone in the love and money department on Wednesday, thanks to Venus in Scorpio making a conjunction to Saturn and a sextile to Pluto on the same day.
Venus to Saturn can mean longevity and endurance, so commitment is possible. With Venus connecting to Pluto, the planet of depth and transformation, this is no casual affair either. Whatever is happening in your love life these days is serious and has the power to radically alter your world.
Thankfully, this appears to be a positive development -- even if it involves an ending of sorts. If you're going through an ending in a relationship now, you'll accept things as they are and feel ready to walk through the process of grieving so you can eventually come through to the other side, reborn and ready to love again.
In terms of money, you'll want to pay attention to investment decisions on this day. Take stock of your portfolio, and if there's any significant business deal you're working on or venture capital you hope to secure, Wednesday might be your lucky day.
Thursday, Sept. 19: Full Moon in Pisces and Mercury square Jupiter
A Full Moon in Pisces on Thursday might leave you longing to escape from all of the physical trappings of the world -- at least for a while. This will be a great time to indulge your imaginative side and spend time in the world of art, music, film, photography -- or even spiritual pursuits.
A lesson in compassion might be coming your way, as well. Because Mercury will square off with Jupiter on this day, you might promise more than you can deliver. Be careful not to raise someone's hopes too high.
Friday, Sept. 20: Pluto Direct
On Friday, Pluto will turn direct after having been retrograde for several months. Soon, the planet of metamorphosis will be ready to make a move again in your world. During his slumber you've had time to consider how you'll deal with the impending change. Well, time is up. Expect the shift to hit the fan once more as Pluto gains speed.
Saturday, Sept. 21: Saturn sextile Pluto
On Saturday, when Saturn makes a sextile to Pluto, you'll feel empowered about making a change. In fact, the only way to reintroduce structure to your world is to embrace the inevitable alteration. Pluto asks us to confront whatever is dark and scary in our world. Saturn connecting to Pluto will somehow help us to plan for this event. Be not afraid.
Sunday, Sept. 22: Sun in Libra
Finally, the Sun enters Libra on Sunday and a light is shining on relationships and their balance -- or lack thereof. Stay tuned. A potent eclipse coming next month will bring partnership and identity matters into even sharper focus.
For now, however, allow the warmth of the Sun help you connect with others.
Don't forget to look at your month ahead with a personal 30-Day Astrology Forecast »