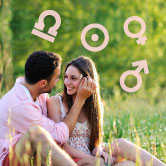 Weekly Astrology: September 19-25, 2016
Ain't love grand?

Finally -- a happy week for romance and all communication matters! See below how a few major planetary shifts this week can bring a big surge to your love life...
Get custom advice for your week with a Tarot card for every day! Start your Celtic Cross Tarot Reading for this week now.
Monday, September 19: Venus sextile Mars
On Monday the cosmic lovers -- Venus and Mars -- will embrace in a perfect sextile. You and your sweetheart will surely enjoy happy, loving moments.
Thursday, September 22: Mercury Direct; Sun enters Libra
The Sun enters the partnership sign Libra on Thursday, shining a light on all relationship matters and cooperation with others. Mercury also turns direct this day, and the frustrations and mixups that have been plaguing you for weeks should start to ease up.
Friday, September 23: Mercury trine Pluto; Venus enters Scorpio
Mercury trines Pluto again in direct motion on Friday. As a result, a powerful communications project is brewing and will get off the ground with a major kick. Also on this day, Venus enters Scorpio where she remains until October 18. You'll want to explore the mysteries of love and your lover.
Get day-by-day advice for YOUR week with a Celtic Cross Tarot Reading now »