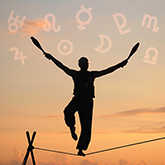 Weekly Astrology: September 22-28, 2014
Life is too short to wait...

Lighten up, take a risk, and open yourself up to new partnerships this week! There is plenty of incredible cosmic energy in store, and you don't want to waste it!
See what's in store for you personally with a Horoscope Tarot reading, and here's the lowdown on the key cosmic events the week of Sept. 22-28, 2014.
Monday, Sept. 22: Sun in Libra and Pluto Direct
On Monday, the Sun enters relationship-oriented Libra, and Pluto turns direct after having been retrograde for several months. You might feel this as a cathartic release -- as if the universe is giving you permission to exhale. Intensity was turned deeply inward while Pluto was retrograde, and now Pluto Direct puts you in a position to use what you've learned while traveling those internal depths to create positive changes in your world.
Wednesday, Sept. 23: New Moon in Libra
On Wednesday, the New Moon in Libra is far enough away from Uranus and Pluto to support instead of rattle partnership developments.
Thursday, Sept. 25: Jupiter in Leo trine Uranus
What should really make your mouth water, however, is Thursday. On this day, lucky Jupiter in Leo will be at a gorgeous trine to Uranus, the planet of sudden change. With a supportive connection like this you can count on a heavy dose of sudden and incredible luck in a certain area of your life. Understand that you are more likely to receive a reward if you're willing to take a personal risk. Where in your life do you want to "win big?" It's time to spin the wheel of fortune!
Saturday, Sept. 27: Mercury in Scorpio
On Saturday, Mercury enters Scorpio, and you can expect communication to focus on the deeper, more important matters.
See what's in store for you personally with a Horoscope Tarot reading now »