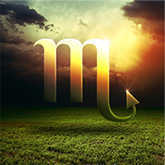 Weekly Astrology: Sept. 23-29, 2013
Deep thoughts and drama take hold this week

Intensity fills the air this week! Despite the fact that the Sun has moved into Libra, Scorpio energy will continue to dominate. Your love life will take on the distinctive flavor of magnetism that only Scorpio can deliver. So will your mind.
See what's in store for you personally with a 30-Day Astrology Forecast, and here's the lowdown on the key cosmic events the week of Sept. 23-29, 2013.
Thursday, Sept. 26: Venus in Scorpio trine Jupiter in Cancer
On Thursday, there will be a gorgeous and supportive trine between Venus in Scorpioand Jupiter in Cancer. These two planets are known as the great benefics in Astrology, and when they link up harmoniously you can always expect good things to come of it.
When it comes to romantic matters, Venus and Jupiter together are about as good as it gets. In Water signs, you can expect emotional connections to flourish. Compliments, flattery, gifts and other mutual indulgences will be easy to give and receive between you and your lover.
In terms of finances, positive aspects between Venus and Jupiter can suggest a magnificent development. Look to real estate deals to pay off, and if you're considering an investment in real estate, this is certainly a good time to act. Need to refinance? Think about moving forward early in the week to take advantage of this gorgeous piece of cosmic support.
Make sure you enjoy all the blessings Venus and Jupiter will offer you, because by the weekend your love life may take a dramatic turn.
Saturday, Sept. 28: Venus in Scorpio square Mars in Leo
On Saturday, Venus will square off with Mars in Leo, making it difficult to get what you want out of love. Venus in Scorpio will go from her penetrating, deep, emotionally-connected self to her more shadowy, black widow-like nature.
Venus in Scorpio will fight, cajole, manipulate and do whatever she thinks is necessary to get her way. Mars in Leo, unfortunately, won't fall for her tricks. In fact, his prideful, bombastic nature is likely to be ignited this weekend. That old adage "Is it better to be happy or to be right?" comes to mind.
Consider which is more important to you when it comes to your love life this week. There's a strong potential for you to become locked into a battle of wills with your lover over who's going to be in the driver's seat in your relationship. Why not take turns instead?
Still, even with all of this potential for conflict on Saturday, Venus square Mars will certainly spice up your sex life. You might have trouble with timing (you both have difficulty scheduling your sexy evening together) but you certainly will make up for it in passion once you actually get between those sheets!
Sunday, Sept. 29: Mercury in Scorpio
On Sunday, Mercury will enter Scorpio and your mind will certainly begin to focus on deeper thoughts. You might think or talk about a situation that haunts you more, and if so this can be quite a healing experience. Only by putting a name to your demon will you finally be able to banish it forever.
The good news is that you'll be especially sharp now -- with an ability to read between the lines like nobody's business.
Pay close attention to the events that begin to transpire during this phase of Mercury in Scorpio, because on October 21 he'll turn retrograde and you'll get to revisit whatever it is your mind is trying to run away from confronting.
And, of course, if there's a secret you need to uncover, research to be done or an investigation that needs a thorough detective work, you'll become a natural sleuth over the next several weeks.
Don't forget to look at your month ahead with a personal 30-Day Astrology Forecast »