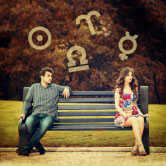 Weekly Astrology: September 28 - October 4, 2015
Relationships get rocky

This will feel like a much quieter week, astrologically speaking. For the first few days into the week, you'll still be recovering from Sunday's Lunar Eclipse in Aries. Themes about partnership are more likely to come up this week, stemming from that eclipse.
Aries is all about self-development whereas his opposite sign, Libra, is connected to partnership. The battle between "me" and "we" ultimately requires a successful balance in order to achieve happiness on both ends. This week you might take a good hard look at whether or not your relationship needs are helping or hindering your personal development.
Wednesday, September 30: Sun conjunct Mercury Retrograde
On Wednesday, the Sun will be conjunct Mercury, now retrograde in relationship-oriented Libra. This will enhance the mental focus on these matters and might also entail you and your partner rehashing a situation from the past that was never quite resolved. Thankfully, if you're both willing to take turns speaking and listening, you should reach a happy medium.
Find balance and guidance while you assess your situation this week! A FREE Love I Ching reading has the advice you can use...
Now watch your sign's Weekly Horoscope Video for more personal guidance!