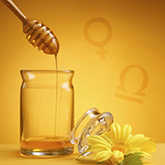 Weekly Astrology: Sept. 29 to Oct. 5, 2014
You catch more flies with honey

It's a mixed bag this week, but if you read all about the cosmic energies ahead, you'll know exactly how to maximize the good and navigate the nasty!
Here's the lowdown on the key cosmic events the week of Sept. 29 to Oct. 5, 2014.
See what's in store for you personally with a Horoscope Tarot reading!
Monday, Sept. 29: Venus in Libra
On Monday, love planet Venus will enter Libra -- the quintessential sign of relationships. With Venus in Libra, there will be more room for cooperation, diplomacy and tact in all of your encounters with others until October 23. The phrase "you catch more flies with honey" applies now, and you'll be wise to remember that being polite and accommodating will get you farther now. Relationships in business and your personal life have a chance to improve.
Saturday, Oct. 4: Sun in Libra square Pluto and Mercury Retrograde
The Sun in Libra will square off with Pluto on Saturday, and there might be a power struggle somewhere in your world.
What makes Saturday even more uncomfortable is that Mercury will turn retrograde in Scorpio, adding to the uncertainty of how much your powerful words might truly sting someone.
Sunday, Oct. 5: Mars in Sagittarius trine Uranus
On Sunday, Mars in Sagittarius will be at a phenomenal trine to Uranus in Aries, and you'll have plenty of energy to go your own way and be rewarded for it. Do something on this day that celebrates your individuality and freedom!
Get more personal advice about life and love with a Horoscope Tarot reading »