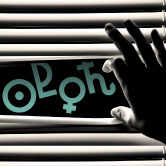 Weekly Astrology: September 5-11, 2016
Light and dark

This week you can certainly expect plenty of happenings in several key areas of your life! Keep reading to see what's happening and when...
Wednesday, September 7: Sun trine Pluto; Venus sextile Saturn
On Wednesday, the Sun will trine Pluto while Venus sextiles Saturn. As a result, you'll feel vital, powerful, and able to express the very best of your talents out to the world with complete reliability and stability.
Friday, September 9: Jupiter enters Libra
On Friday, Jupiter enters Libra for the first time in 12 years. Until October of 2017, you can look forward to more cosmic support in the relationship department.
See how and when Jupiter brings luck to YOUR life with a custom Jupiter's Promises Astrology Report!
Saturday, September 10: Saturn square Neptune
Come Saturday, we have murky waters. The last of three squares between Saturn and Neptune will emerge, creating a schism between what is real and what is fantasy. Blurry lines might cause you to lose footing -- but if you remember that hope floats, you should be just fine.
Sunday, September 11: Venus square Pluto
Then on Sunday, Venus and Pluto square off. Love is deep, intense, and tricky. You'll confront your lover's darker side. Are you ready?
Get your Jupiter's Promises Report now to fully connect with this time of abundance »