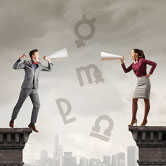 Weekly Astrology: September 7 - 13, 2015
Danger: High Voltage

Get ready for a week of high-voltage energy and shrewd or unsavory communication -- topped off with the most beautiful eclipse of 2015. Read all about it!
Tuesday, September 8: Mars in Leo trine Uranus
You'll have all the "get up and go" you need to make just about anything happen on Tuesday when Mars in Leo creates a perfect trine to Uranus, the planet of sudden developments. This is the time to take your passion -- whatever makes you feel most alive -- and do something with it. The result will be amazing!
Wednesday, September 9: Mercury in Libra square Pluto
The tide may quickly turn by Wednesday, when you feel caught up in an atmosphere of secrets, lies, and manipulative conversations. Do your best to take the high road if you're involved in any negotiations around this time. An unwillingness to compromise is likely so if possible, avoid important communications related activity and signing contracts altogether if possible.
Sunday, September 13: Solar Eclipse in Virgo
The universe will save the best for last this week however when a brilliant Solar Eclipse in Virgo on Sunday promises gorgeous developments in a work- or health-related matter. You might also decide it's time to set your intentions on new habits that help you to become better organized, improving your overall routine. Excellent!
Make sense of this confusing and confronting week with advice from a Celtic Cross Tarot reading »