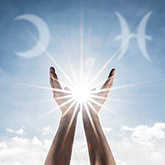 Weekly Astrology: September 8-14, 2014
Delve into this week's deep spiritual energy

This week there's a decided push-pull happening between a need to express your imaginative side and go with the flow versus crossing all of your "t's" and dotting your "i's."
Is balance possible?
Read on for the cosmic scoop the week of Sept. 8-14, 2014, and see what's going to happen in your near future with a Timeline Tarot reading.
Monday, Sept. 8: Full Moon in Pisces
On Monday, a mystical Full Moon in Pisces calls us to delve into our spiritual or creative sides. Nurture that part of you that yearns to merge with the divine and express unconditional love, or simply be in the moment without any distracting noise.
Tuesday, Sept. 9 and Wednesday, Sept. 10: Mercury in Libra square Pluto; Venus in Virgo opposite Neptune; and Mercury sextile Jupiter
Unfortunately, it might not be easy to live in the moment. A nasty conversation with a partner on Tuesday might leave you feeling on edge. Thankfully, you can use the supportive sextile between Mercury in Libra and Jupiter in Leo on Wednesday, and forgiving Venus-Neptune opposition to pick up the pieces.
Thursday, Sept. 11: Sun in Virgo sextile Saturn in Scorpio
On Thursday, the Sun in Virgo will sextile Saturn in Scorpio, and you'll focus on your work with absolute commitment. You'll be on top of your game and a VIP will notice!
Saturday, Sept. 13: Mercury opposite Uranus and Mars in Sagittarius
On Saturday, Mercury will oppose Uranus in Aries, and action planet Mars enters Sagittarius. You might put your foot in your mouth with Mars in Sagittarius, or promise more than you can deliver. Thinking big thoughts is one thing, but following through is another thing entirely. Easy does it!
Sunday, Sept. 14: Venus in Virgo trine Pluto
On Sunday, Venus in Virgo will trine Pluto, and you'll be able to fix any potential mess from Saturday. Your love life might also transform in the most phenomenal way. One way or another, your talents and confidence will intensify.
See what's in store for your near future with a Timeline Tarot reading now »