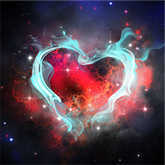 Weekly Astrology: September 9-15, 2013
Find romance amid the cosmic chaos

Ever have one of those weeks where you've got so many different themes happening in your life that you just don't know what to focus on first? And because of that you're blocked and get nothing at all accomplished? That's how this week may feel, thanks to planets interacting helter skelter across the zodiac.
Communication matters will be partly balanced with a chance of subterfuge, but romance and sex are looking great! See what's in store for you personally with a 30-Day Astrology Forecast, and here's the lowdown on the key cosmic events the week of Sept. 9-15, 2013.
Monday, Sept. 9: Mercury in Libra and Mars in Leo square Saturn in Scorpio
On Monday, Mercury will enter Libra to stay until September 29. In Libra, Mercury will allow your thought process to become more open to the other side of the coin. In fact, balancing two different perspectives will be of greater interest to you because you'll get more value out of considering every possible scenario.
Mercury in Libra will also have you thinking in a more collaborative way, which will be helpful in all negotiations, both business and personal.
This will be true for most of the week, except for Saturday, when Mercury squares off with Pluto. On this day you'll feel more suspicious of another person's idea. You might also feel as if you've got to go out of your way to sugar-coat information in order to make sure you get what you want. Be aware of crossing any line and turning a conversation into manipulative communication. You'll be called out for it.
Back to Monday: You might feel as if you can't get things moving. That's because Mars will square Saturn -- the quintessential getting-nowhere-real-fast aspect. Mars wants to push ahead in something -- anything. Saturn wants you to slow down and take a careful look at what you're getting yourself into. Are all your ducks in a row? Is there something you've missed? Is this really a good idea?
Try to accept that the temporary pause on a project isn't meant to make your life miserable. Think of this as cosmic quality control. You'll thank Saturn later. We always do.
Wednesday, Sept. 11: Venus in Scorpio
On Wednesday, Venus enters sultry Scorpio, where she'll remain until October 7. During her stay in watery, ultra perceptive Scorpio, Venus will be extra magnetic and hypnotic. Romance will be absolutely enchanting, thanks to the gorgeous trine Venus will make to Neptune on Saturday.
Indeed, sexy fairytale love is possible with Venus in Scorpio -- particularly for Earth and Water signs. If you're a Scorpio or Pisces, in particular, you might feel as if you've won the cosmic jackpot when it comes to soul mate love. You'll feel like you're with someone who really "gets you." That is priceless.
As far as finances go, Scorpio is concerned with big money and Venus is the planet of money, so now there will be heightened intuition (trine to Neptune) when it comes to making investments. Call your financial advisor and discuss!
Saturday, Sept. 14: Venus in Scorpio trine Neptune in Pisces, Mercury in Libra square Pluto in Capricorn and Mars in Leo trine Uranus in Aries
If you're an Air or a Fire sign, your weekend might not be as sentimentally romantic, but you will certainly have your share of passion!
That's because Mars -- ruling action and libido -- will be at a sizzling trine to Uranus, the planet of sudden, revolutionary change. You'll have plenty of energy to chase an innovative pursuit, and when it comes to your sex life, experimentation will be the name of the game!
Don't forget to look at your month ahead with a personal 30-Day Astrology Forecast »