Tarot.com's Daily Horoscope Experts
Meet the team behind Tarot.com's authentic Daily Horoscopes

Our Daily Horoscopes are the most authentic Daily Horoscopes you will find anywhere. Master Astrologer Rick Levine has devoted decades of expertise into analyzing and writing the most accurate Daily Horoscopes to help guide you throughout your day. Taking every planet and aspect into account, your Daily Horoscopes are written by Rick and a hand-picked team of astrologers to provide the most well-rounded and comprehensive view of your day and all the energies at play.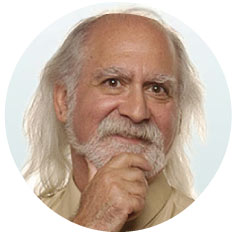 Master Astrologer Rick Levine
Rick has been a professional astrologer since 1976. He has written Tarot.com's Daily Horoscopes for over 15 years and is one of the most widely published horoscope writers worldwide. He is a respected leader in the global Astrology community, a published author, and the astrologer behind multiple personal Astrology reports available on tarot.com.
November's Featured Astrologer
Curious as to who's behind your zodiac sign's Daily Horoscope for the month? Meet the astrologer behind the words you depend on to kick-start your day!

Beth Koch Rosato
Beth is a professional astrologer with over 35 years of experience as a consultant, teacher, and writer. She holds a diploma from the Faculty of Astrological Studies in London, and currently teaches through the American Federation of Astrologers.
Meet Our Daily Horoscope Astrologers
Rick Levine has compiled a team of top-notch astrologers to craft the Daily Horoscopes you know and trust on tarot.com. Their insight and expertise have been hand-picked to deliver profound and useful guidance to help you make the most of your day, every day.

Samuel F. Reynolds
Sam has spent nearly 30 years reading charts and studying Astrology. He consults, writes, and teaches Astrology full-time, and also serves on multiple Astrology organizational boards.

Larry Martin
Since 1992, Larry Martin has appeared on both radio and television delivering motivational insights with an emphasis on success and need fulfillment. He was awarded Speaker of the Year by the Arizona Society of Astrologers in 2014.
Read Your Daily Horoscope:
Aries
3/21-4/19
Taurus
4/20-5/20
Gemini
5/21-6/20
Cancer
6/21-7/22
Leo
7/23-8/22
Virgo
8/23-9/22
Libra
9/23-10/22
Scorpio
10/23-11/21
Sagittarius
11/22-12/21
Capricorn
12/22-1/19
Aquarius
1/20-2/18
Pisces
2/19-3/20