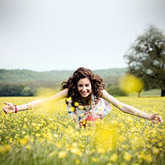 April Direct
No fooling around!

Can you feel the energy bubbling yet? It's like we've all been in hibernation mode since the end of January when Mars (action, initiative) first went retrograde. Then, adding to the frustration, on March 12, Mercury (communication) went retrograde as well.
If you're anything like me, March felt like one giant stall-fest. So much "hurry up and wait" energy for all of us. Well, guess what! This month, it's over. I swear it is ... no April fool's joke either. Finally, in April both Mercury and Mars turn direct, and that means one thing: you can finally start moving again!
On April 4, Mercury already turned direct, and on April 13 Mars will wake up from his long winter's nap as well. This is exciting news because it will feel as if 2012 has finally begun for many of you -- especially those with planets in Virgo or ruled by Mars (Aries and Scorpio). Your vitality will be back and you'll be raring to go -- stronger than ever!
The second half of April will be absolutely incredible for everyone, and whatever plans you've been revising over the first half of the year during this long stretch of Mars Retrograde will be ready to implement.
Then, as if that weren't enough, we'll have one of the most spectacular New Moons of 2012 on April 21 in Taurus. Combined with the energy of Jupiter in Taurus and strong, positive aspects to a direct Mars in Virgo and Pluto in Capricorn, you can be sure that if you're an Earth sign, you'll see a spectacular development in your personal life. April 21 - 24 are simply enchanting for all Earth and Water signs so enjoy the bounty!
For everyone, the Taurus New Moon will be a time to set your intentions on planting seeds to develop one of your personal talents, with the intention of marketing it in the future. This will be a potent money-making lunation, so please don't underestimate its potential.
As you can see, I'm a little hyped up about April. It's one of those months I've been patiently waiting for. OK, who am I kidding? I've been banging my head against walls screaming to myself that I can't wait for it to be April! What can I say; patience has never been my strong suit.
So go ahead everyone, smile. Take some time this month to plant a garden or a tree around the New Moon or take a long walk along the countryside, find a patch of grass and enjoy a leisurely picnic. Enjoy a luscious gourmet meal prepared with the freshest spring produce available in your area. Get a massage; indulge in your favorite chocolate. Make an important financial investment. Have more fun in bed.
Not only will the Taurus New Moon this month be perfect for such pleasure, Mars Direct will give you the energy to enjoy it. And Mercury Direct will ensure that you don't stumble on your thoughts or words in the process.
If this makes me an April fool, then all I can say is bring it on!