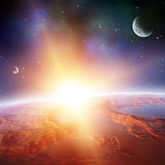 1,200 Astrologers Can't Be Wrong
I'm in New Orleans for the United Astrology Conference (UAC), a gathering of over 1,200 people from thirty countries. It's the biggest gathering of astrologers in the world, and it only occurs every four years. 14 separate tracks of 18 lectures each cover forecasting, consulting, spirituality, history, finance, politics, mythology and more. There are also meetings of astrological organizations and the usual social activities of any professional conference. The universe of Astrology is larger than ever, and continues to grow each year.
UAC is a kind of homecoming for me as I reconnect with friends and colleagues, some of whom I've known for 35 years. We've grown older and wiser as we've helped Astrology move from the fringes to a more prominent position in society. Yet as my old pals have become grayer with age, we haven't lost an ounce of enthusiasm for Astrology. And there are waves of younger astrologers at UAC and a whole new contingent of Astrology students from China.
The range of subjects is matched by the temperature extremes of an overly air conditioned hotel inside and the steamy streets of New Orleans outside. Such an exotic gathering in such an exotic place makes this a never-to-be-forgotten event. There is also a large trade show with an extensive Astrology bookstore and booths for software companies, magazines, schools, as well as the usual New Age-y crystals and cosmically-inspired clothes.
UAC and the many smaller national and regional conferences are exciting events and unique ways to begin an astrological education, learn advanced techniques, and make connections, many of which will last a lifetime. Our unconventional field may still seem a bit strange to the general public, but gatherings like UAC not only build our community, but expand our outreach to the rest of the world. A hard-working public relations committee has gotten extensive television, radio, online and print coverage of this conference.
It's very heartening to see how much Astrology has grown since I began practicing way back in 1973. The range, depth and maturity of the presentations is incredible. Even though there are over 150 teachers on the faculty, it's a tough selection process in which an equal number of applicants, all professional astrologers, did not make the cut. The breadth of talented practitioners and teachers is a testament to the growth of our field. The maturity of the lectures that address the ethical and practical issues of astrological counseling is also inspiring.
While the growth of online resources for astrologers and Astrology students has expanded enormously with classes, lectures, articles, webinars, blogs and discussion groups is impressive, there's nothing like face-to-face contact for accelerating learning. Sitting in the lobby of this massive hotel and listening to the astro-talk all around me is like living in a magical land. It's a place where the Sun, Moon and planets are alive with meaning and conversations peppered with them flow from personal astrological insights to observations and opinions on what the future will bring.
Astrologers helped to birth civilization by mapping the skies and creating the calendars necessary for agriculture. We have counseled kings, queens, presidents, generals and leaders of all stripes. Astrology also produced the first and still the most insightful and complex system of personality analysis. And perhaps most important of all, Astrology continues to remind us that we are deeply connected with nature, and that the rhythms of the earth and sky continue to keep us in sync with the cosmos.
So let us know: how were you first introduced to Astrology?