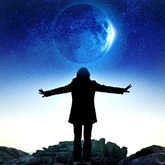 Time to Change the World
Every New Moon is an opportunity to set wheels in motion. The union of the Sun and Moon is a moment when seeds are planted and a fresh cycle of growth begins. The most recent lunation occurred in Aquarius late on Sunday, Jan. 22 or early on Monday, Jan. 23, depending on your location. The New Moon in this sign is always special because it's also the Chinese New Year, marking the beginning of an annual cycle recognized by billions of people. This one is especially useful for glimpsing a bigger picture of the future and moving it in a desirable direction.
Aquarius is a community-oriented sign that allows us to see reality from a wider perspective. A greater understanding of the relationships between individual lives and group activities provides a powerful context for change. Innovative Aquarius peers outside the curtains of current thinking, providing unexpected views of who we are and how we interact with others. We are less bound by conventional ideas as we break free of our standard patterns of thinking. This exhilarating influence can be disorienting as we separate ourselves from known truths to invent and discover new ones, yet flexibility helps us ride the turbulent currents of change with cool heads and brave hearts.
The shape-shifting effects of this Aquarius New Moon are reinforced with elements of innovation, aspiration and practicality, increasing our capacity to apply futuristic visions to our current situations. Unconventional Uranus, the key or ruling planet of Aquarius, forms a favorable 60-degree sextile to this Sun-Moon conjunction to add intellectual rocket fuel to this already stimulating event. This favorable alignment makes it possible to integrate unique ideas into our lives right now. Expansive Jupiter in earthy Taurus' formative 90-degree square to the New Moon challenges us to come up with resources needed to turn concepts into reality. This aspect can also help us overcome the divide between mind and matter.
Serious Saturn makes a square with this lunation, which demands discipline and patience to achieve our goals. These outer planet connections with the New Moon are about changing the world by broadening our minds and awakening sleeping aspirations. Looking at the larger personal issues of career, life purpose and long-term goals can be rewarded with unexpected insights that lead to constructive activity. And recognizing the limits of current institutions encourages us to invent new ones or, at least, reflect on different ways that large private and public organizations can better serve humanity.
Idealistic Aquarius is sometimes a springboard to concepts that are so far ahead of their time that they cannot be applied to current circumstances. This New Moon, though, is a thought balloon that's in touch with reality, making it likely that its brilliant insights can be brought down to earth if we are committed enough to fully invest ourselves in them.