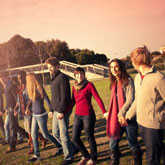 Forever Young
I have thought of the young as foolish and, in these uncertain times, burdened by fear and low expectations, dumbed down by poor education and ADD'd by technology. Happily, this is not the truth.
I had a very inspiring experience the other night that cast some light on the future. My wife and I spent Friday evening with our 22-year old daughter and a group of her friends. Most of them were about 24 and have been close for years. They were kind, warm, curious and bright, most of them musicians. Looking into their young eyes made me realize how much of life they still have to discover and to create. They may not be gifted with the wisdom of my years but they're not burdened with it either. I realized that there are worlds to invent that aren't in my mind that are not as tightly bound by the weight of the past as mine.
It is their future and they have more resources to meet it than we think. This is an excellent expression of the brilliance of Uranus in Aries. The planet of innovation in the sign of the individual is, as I have stated many times here, about each person's capacity to help create our collective future. What hadn't occurred to me, though, is that Aries, the first sign of the zodiac, is not just about new perceptions but about new people. They are the young ones who haven't soared on smoky clouds of 60s inspiration, only to fall into the conventionality of cocaine in the 70s and trickle down snobbery of the 80s.
They have untapped potential that can look strange to oldies like me who love freedom but are discomfited by tattoos. They haven't crafted intellects based on old school economics, politics or metaphysics. I'm sure that many of the pre-Saturn return crowd (under 30) are cautious, conservative and fearful while others are wildly undisciplined and frighteningly uncertain. Yet what I saw in these youthful eyes were horizons of potential so distant that they surely exceeded my own. And that made me very happy.
There is vitality in the young that is more than physical. Their rough edges have not been ground down with adult cynicism and psychological surrender to the old age and death that follow. The freedom of the young to be stupid and smart, sweet, naive and innocent is a gift to everyone. It is a Uranus in Aries wake-up call for all of us to start each day anew and a reminder of Bob Dylan's generous wish, "May you stay forever young."