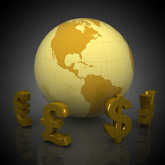 The Economics of Happiness

In March I was enjoying a week in Maui with my son, Shane, and grandson, Bryce. How fun it was to help our little 4 1/2 year old learn to swim, and to bodysurf his little body on a boogie board in the small waves on our sheltered beach ... oh, these are the memories (for him, at least, after I'm dead and gone)!
Toward the end of my time on the island, I got a call from my good friend, spiritual teacher Catherine Ingram, about Helena Norberg-Hodge, who was passing through Maui to present her documentary film to a select group of Maui's consciousness crowd. I asked my friend Maui Mary if she wanted to go with me to find the host's house, located on the other side of the island -- the "wet" side (as opposed to the dry sandy beach side where we were staying), and she was happy to do so.
After driving through the jungle in the pitch dark, by some minor miracle we found the place in time for the showing. We were treated to a sweet, educational documentary on the phenomenon of globalization -- what it is, who it serves and how it impacts local communities worldwide -- all told in the context of real people's lives. Even Mary, who does not normally follow current events, loved it. The film was highly entertaining for a documentary, and Helena, who answered questions after the film, was brilliant and delightfully humble ... especially for someone who has accomplished so much on our collective behalf!
Globalization is destroying cultures and happiness, even in our own consumption-addicted society. But the solution is right in front of us and, actually, localization looks like a lot more fun than mindless consumerism!
Be sure to support this non-profit work and buy a copy of The Economics of Happiness DVD at TheEconomicsofHappiness.org ... you'll be glad you saw this wonderful 1-hour movie! You are also invited to listen to my 27-minute taped interview with Helena via my Pathways show podcast on Divination.com ... enjoy!