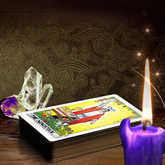 Beta.Tarot.com is Here!

From a humble Mac Classic Floppy Disc I Ching program to what is now one of the largest divination sites on the web, Tarot.com has had a long and proud tradition of transformation. I'm thrilled to be part of a company where change is viewed as a positive and necassary part of our journey. I'd like to tell you a little bit about why and what the changes ahead will be.
This new incarnation of Tarot.com is the first of many to come in the next two years. Though the changes are big, you can rest assured that one thing will remain intact -- our mission statement.
"Innovate, lead and expand the digital divination space by offering world-class digital experiences, content and community services to all levels of interest."
During our 10-year evolution, we've never strayed from this focus. We've been at the forefront of digital delivery from the early days of dial-up to having Wi-Fi in every coffee shop. It's this exciting technological expansion that keeps us on our toes and challenges us to find new and inspirational ways to expose as many people as we can to the power of these divination tools.
The internet is now finally ready to deliver truly rich and powerful representations of the most popular ancient oracles and rituals. It's our commitment to makes sure Tarot.com continues to be the first to deliver it the right way. This Fall Equinox, we are thrilled to bring you the first peak at our new Tarot reading experiences. Along with more interactive readings and reports, we will be creating fun and entertaining ways to engage with Tarot Cards, Signs, Planets and more.
One thing we know for a fact is that people love our Karma Coins! As we continue to release site updates, we will have more and more opportunities to earn and use Karma Coins. We will also be introducing member badges and prizes you can unlock as you set goals for yourself and explore the ancient oracles we celebrate.
Most importantly, we will be encouraging a larger sense of community on our site. We have better commenting and sharing features which will let you express your thoughts, feelings, and reactions. We will have member profiles which you can share with other members who share your passion for Tarot, Astrology, Numerology and more.
The vision we have for Tarot.com is big. We have lots of work to do, and we are small team. But we are excited and charged to see where this energy and effort will take us. Just like the Tarot Cards reveals ... life is a journey. You need to listen to your intuition, make decisions, and ultimately, grow and change. We hope you will join us on this journey and be welcomed advisors as we work to protect and deliver these ancient divination experiences to generations to come.