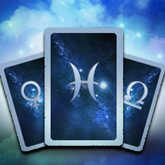 A Tarot Take on the Full Moon in Pisces and Venus in Libra

Did you know that each Major Arcana Tarot card has an astrological correlation? For some, it's a planet, and for others it's an astrological sign. Every week, we'll be taking a look at the major events happening in our changing sky, and sharing advice on making the most of them from the Tarot. This week, we take a look at the Full Moon in Pisces and Venus in Libra.
Full Moon in Pisces
This month's Full Moon happens in the dreamy sign of Pisces, heightening feelings and imagination. On the positive side, this can inspire creative solutions to complicated problems. Because the Fish is such an emotional sign, however, feelings can get in the way of action, causing dramatic mood swings. The tendency to look for a way out of a situation can cause a delay in dealing with it.
What the Tarot Says:
Contrary to what you might think, The Moon Tarot card is not the one associated with the actual Moon. But that doesn't mean this card doesn't have insight to offer during this event. Its astrological association is with Pisces, and like this dreamy sign, it highlights spirituality, sensitivity and imagination.
When it comes to the emotional highs and lows of the Full Moon in Pisces, The Moon card urges us to listen to our intuition, rather than our hearts or minds. When you need support and security, look inward. Your inner resources will lead you, if you pay attention to where they're guiding you.

Deck: Chinese
Venus in Libra
Venus, the planet of love and pleasure, comes back to its home sign of Libra, highlighting dialogue, negotiation and relationships. This transit makes us more diplomatic, helping us to bring about change without conflict. With it, however, comes the potential to sacrifice more than we should for the sake of harmony, to lose ourselves in order to make someone else happy.
What the Tarot Says
Given Libra's diplomatic skills and sense of balance, it should come as no surprise that this sign's Tarot card association is Justice. The card urges us to weigh situations carefully -- to look, listen and absorb information before taking any course of action.
With the planet of relationships aligning with Justice, it's wise to weigh your own needs against those of others. Balance is obtained when we benefit the greater good, and everyone around us, without giving up our own identities or happiness in the process.
When the stars and the cards line up so perfectly, we'd all be The Fool not to pay attention to what they're telling us.

Deck: Classic
Related links:

Daily Reflection Tarot reading
Our Changing Sky
Tarot Card of the Day