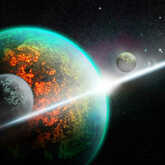 Revolution Number 9
In the previous blog I wrote about Uranus' stressful connection to this week's New Moon in Libraand its disrupting effects on relationships. This revolutionary planet will continue to be a major theme in our lives as we get closer to its seven shape-shifting squares with transformative Pluto from 2012 to 2015. Change is the name of the game and resistance is not only futile, but it can be painful, frustrating and costly.
The potentially shocking news we hear this week can produce a desire to turn back the clock, hide under the covers, go back to sleep, and hope to wake up in 1992. More aggressive individuals may be driven by anger to rage against the machine, which isn't any better. As noted here many times, Uranus -- the planet of freedom -- is in independent Aries, so the battle we're fighting is with ourselves, in ourselves. Revisioning your life is the most powerful step you can take toward reshaping the world.
The great challenge with dealing with Uranus is that it forces us past the limits of current reality, just as its discovery in 1781, shattered the known limits of the solar system. There are no maps to guide us in unexplored territory so we are required make them up as we go along. This can be highly disorienting, leading the faint of heart to look for roads that take them back to life as it used to be.
The philosopher Alfred North Whitehead wrote, "The major advances in civilization are processes that all but wreck the societies in which they occur." This points to the creative power of destruction and reminds us that what looks like failure on the outside might be a move toward something better. How many of us have lost jobs or lovers and thought that our lives were ruined only to find more suitable partners and places of employment.
Last week CERN, the European Organization for Nuclear Research, reported measuring sub-atomic particles called neutrinos that travelled faster than the speed of light. If this observation is supported by additional research, it would break Einstein's century old dictum that nothing can move faster than the speed of light. This a great Uranus-Pluto story about shattering the world as we know it and creating a paradigm shift that alters our perception of reality.
Of course, what happens in a physics lab doesn't immediately change our lives in obvious ways, but breakdowns in the banking system or breakthroughs in medical research will produce more visible effects. In fact, change happens all the time, but is now unfolding more frequently on a global level, i.e. the Arab spring, and in more personal ways. A key question, then, is what we do about it?
A student in a seminar with the Swiss astrologer Alexander Ruperti once asked him how to handle Uranus. Alex replied, "Have a good Saturn." What that means is that a healthy relationship with the ringed planet of order and structure allows us to respond to radical changes in the most effective ways. An overly rigid Saturn, expressed with inflexible rules and rejection of anything outside the current system, or a weak one that lacks a meaningful sense of responsibility both lead to chaos and subsequent repression. But a living sense of order that respects the past but recognizes that growth and evolution are natural expressions of life can nourish and support the radical shifts unfolding now in constructive ways that advance the human condition.