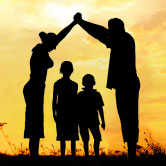 This Is What Divorce Looks Like

At Tarot.com, relationships are a huge topic. From break-ups to divorce, our goal is to guide your way through these stormy times. Monica Bielanko, divorced mom of three, gives her first hand account of what it means to co-parent with her ex-husband. -- Editor's Note
This article provided to Tarot.com by the experts in all things parenting, Babble.com and written by Monica Bielanko -- mother and writer.
One of my favorite columns to read is the Modern Love section of the New York Times. It's like peeking through the blinds into the living room of somebody else's love life. Every read is a funny, thought-provoking, heartfelt, often tear-inducing glimpse into the always tangled relationships of others.
Recently an article called From Divorce, a Fractured Beauty was published wherein Lara Bazelon shares the beautiful new relationship she worked hard to create with her ex-husband which includes vacationing with him and their children. Bazelon writes, "And so, we have remade our family, slowly, in fitful starts, with many setbacks. Day by day we struggle to do separately what we could not do together: raise smart, thoughtful, decent kids by extending support and encouragement -- to each other."
Readers responded to the notion of building a loving relationship with an ex-spouse with drastically differing opinions, but many people expressed concern that maintaining a positive, loving relationship prolongs pain and confusion. Here are just a few of the responses:
"My parents divorced after a vague separation, during which I kept thinking they would get back together. It was confusing and painful. I was much better off when they were simply out of each other's lives except for logistics. Later, they were always friendly at weddings, grandchildren's birthday parties, and so on, but the marriage was over when it was over. Divorce is ultimately unhappy and traumatic for children. Don't prolong the pain and confusion."
"As a woman who was divorced 40 years ago, when I read an article like this, my immediate thought is why couldn't you just behave this way and stay married? You were married a very short time and have two young children. Did you really even give your marriage a chance?"
As someone who has struggled mightily to create a positive divorce experience and forge a solid, new relationship with my ex-husband and co-parent, I constantly face a similar question: If you guys get along so well, why aren't you married?
The short answer is we don't get along. At least we didn't when married. Much of the reason we get along so well is because we're no longer married. Meshing your life with someone else's is no small feat and the concept of marriage isn't as simple as: Hey! We get along really well. We should live together forever! There are a million subtle nuances within every relationship that cause it to work or not to work, many of them only understood by the two people who experienced the relationship. I get along with my ex. I love my ex. That doesn't mean we belong together.
Bazelon articulated the gut-wrenching last year of her own marriage in her Modern Love article and she may as well have been writing about me:
"Our last year together was the loneliest of my life. At times, often when I was walking somewhere on a routine errand, sheer misery would make the world spin and I would have to sit down until the dizziness and nausea went away... And yet, we had been in love with each other once, fiercely and absolutely. Yes, our son and daughter were the children of divorce, but they were conceived in a love that was passionate and tender. They were innocent. They deserved better than a childhood spent bearing witness to our worst selves."
My only option
Divorce was my only option. A last resort. And while I'm not one to cast sweeping generalizations on the best thing to do or not to do in the wake of a broken marriage -- every situation is different -- I will say that this new relationship my ex and I are forming has made our divorce so much easier. Because of the young ages of our children -- 6, 4 and 1 -- we still spend time together doing things our children enjoy. It's what works right now. We wanted continuity for our children from the time before we divorced to now and that involves them seeing mom and dad getting along and being happy together. If I had to inflict divorce on my children I'm going to make it the best damn divorce I can. Yes, as time rolls on my ex and I will become involved in other relationships and the time we spend together will probably decrease but, for now, doing things together with our children feels right and good for them.
A blended family
But when either of us does fall in love again I hope to be the kind of blended family that will get together for all kinds of events. If my ex remarries I'd love to be able to take everyone out for dinner after, say, one of my son's soccer games. Yeah, it'll be weird, initially, watching my ex-husband with someone new, but I'd far rather adjust to that than maintain a very formal, even icy, existence with the father of my children and the woman with whom they'll spend a large portion of their lives.
I'm well aware that someone new in his life won't necessarily feel the same way and that will be difficult. I would hope he finds someone who doesn't feel strange about me, someone who feels comfortable with me, someone who would enjoy having drinks with me to discuss my children and hers, if she has them. I want to work with, not against, a woman who could potentially be the main female figure to my children when they're not with me. I just don't see the point of icy divorce relations when kids are involved, and I will work as hard on my relationship with a new woman in his life as I have on my relationship with my ex-husband.
Time to let go
Why is everyone so black and white when it comes to divorce and the resulting relationships? The way people struggle with exes and remarriage and blended families seems to me like the much harder route to take. Why make a ridiculously hard situation that much harder? The marriage didn't work out for a reason. Let it go. Move on. The longer you linger on the past and the reasons for the divorce, the harder it is on everyone, especially your kids. If you can figure out how to begin looking at your ex in a new light, everyone will blossom. My ex is family. He always will be. He is the father of my children, the three most important people in the world to me. He is my parenting soulmate. He will always be a part of my life in some capacity. And I'm happy about that. When we don't get along my life is significantly more difficult, so I work hard to make sure we are good and that includes welcoming anyone he chooses to love into my life with open arms.
No labels needed
Everyone is so caught up in defining family in this way or that way -- stepmom, ex-wife, new boyfriend, bonus mom, broken family, blended family -- instead of just looking around at those people who are a part of our lives on a daily basis who love us and whom we love and being happy that so many people are present. The more the merrier. We are all family. Whether you're married or divorced or single and your family is your friends, neighbors, and pets, think more creatively about what the definition of family is and how that applies to the little universe you're carving out for yourself.
In the end, Bazelon says it best. "The decision to end a marriage is not about quitting; it is about letting go of one relationship in exchange for another. The equation isn't love/not love. Divorce, at its best, is a love reborn -- birthed from heartache and rage and despair and ultimately, forgiveness -- that creates a different kind of family."
More from Babble.com: