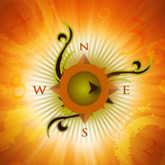 Venus in Capricorn: This combo is about to kick your buns into high gear...
Use the power of Feng Shui to increase your productivity and so much more with this...

You're going to need more than just a plan to kick off 2013 ... you also need the energy. And sometimes, it's just a fresh perspective or a new direction that help refill the tanks.
And all of this on top of Venus' move in to grounded Capricorn today? What luck! This transit brings with it a clean, efficient energy that can give you and your surroundings the boost you need to start off this New Year. And I know just what to use...

The Feng Shui Kua Energy Reportuses your specific birth time to determine which direction objects in your house should be placed to maximize your energy potential. By heeding its advice, you can experience growth in health, personal awareness, work, and especially love.
So while this New Year is still fresh, align yourself with a higher plane of productivity and personal enrichment with a Feng Shui Kua Energy Report. Or, for a makeover that won't cost you a dime, you can get the insight within this report at no cost when you use TrialPay.