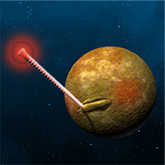 Mercury Retrograde: Exhausted? This is why...
If you've been feeling like you can't catch a break ... this is why...

If you feel like the last few weeks have been, well, hellish, there is a reason -- Mercury Retrograde! This tricky planet of communication went retrograde on Nov. 6, and if you haven't made any effort to outsmart this astrological event, the next 9 days will probably continue to feel crummy.
Good news, though! There is a cure ... a Feng Shui cure that is. The art and practice of Feng Shui breaks down your life into manageable chunks (love, work, health, etc.). Using your birth data, it literally tells you which directions to orient yourself to avoid mishaps and to thrive in each area of your life. These cures are painless, fun, and they work instantly ... here's how...

As soon as you know your best directions (N, S, E, W), you can rearrange your environment and feel a whole new flow of positive energy take hold. The Feng Shui Kua Energy report not only reveals and explains your power directions, but also offers simple color and shape suggestions. These easy cures can help transform your mood and create the mental space you need to get through these last 9 days of Mercury retrograde.
Battle the effects of Mercury Retrograde and take on new directions with your own Feng Shui Energy Kua report! Or you can get your charge-up in time for the holidays at no cost with our TrialPay partner offer.