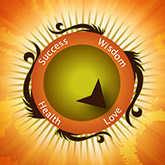 ACT TODAY: Don't Miss This Burst...
Seize today's burst of new energy from Mars Direct!

Good news! Mars is finally direct! The planet of action has been stuck in reverse for more than two and a half months, so instead of being go, go, go ... most of us have been slow, slow, slow. But not anymore! So, what can you do with today's big burst of positive energy?
Now is your chance to reinvigorate the important parts of your life that have been suffering during the past few months of Mars Retrograde. Whether it's your job, your health, your relationship, or your personal awareness that needs a boost, you can finally take action today! So, ask yourself...

The Feng Shui Kua Energy Report shows you exactly how to direct the flow of positive energy where you need it most! By using your specific birth time, it illustrates how to make the most effective changes in your home right away. Easy to use and budget friendly, these simple steps position you to experience growth and prosperity in the most important parts of your life!
Take advantage of lively Mars Direct to reach a higher level of productivity and personal enrichment. Get started with your Feng Shui Kua Energy Report now! Or, for an energy boost that won't cost you a dime, you can get this report at no cost when you use TrialPay.