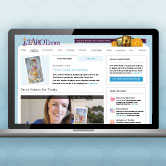 We're Getting a New Look!
See what's changing...

We're making the Tarot.com desktop homepage better, faster, and easier for you to get what you're looking for! With a greater focus on Tarot and what's happening right NOW, all the daily insight you know and love is still here. But we know change can be daunting! So we'll make it easy for you by telling you what's changing:
MAIN COLUMN
New Look! Tarot Card of the Day
Your Daily Tarot Card is still here -- now right at the top of the homepage! Find guidance from the Tarot Card of the Day for everyone, or log in to see a personal Tarot card and guidance for what the day holds.
New! Tarot Videos for Today
Capture the energy of this moment! Our homepage now shows the latest Tarot videos, so you can be aware of the opportunities and challenges at play right now...
New Look! Ask the Tarot
You still have access to our most popular Tarot readings in the "Ask the Tarot" section! Just type your question, then pick from your choice of spreads for the answers you seek.
New! Learn Tarot the Fun Way
Learning Tarot has never been so easy! Our homepage now features Brigit from Biddy Tarot, delivering educational videos so you can start reading Tarot cards yourself.
New Look! Tarot Card Readings, More Readings & Reports
All our most popular free and premium Tarot readings, Astrology Reports, I Ching readings, and more can still be found at the bottom of the homepage, just with a new look!
Moved: Readings & Reports Slideshow
If you liked seeing the best readings and reports to guide you through this moment, fear not! This slideshow is no longer featured on our homepage, but you can still see it any time right here.
SIDE COLUMN
New Look! Today's Horoscope
You've still got easy access to your Daily Horoscope -- now in the top right corner of our homepage! Logged out, you'll see today's horoscope for everyone, or log in to get custom access to your sign's horoscope every day.
New! More for You Today
All the tools you need to navigate your day are now just a click away! Access your Daily Love Horoscope, Daily Number, Daily Hexagram, and Daily Psychic Tip from this new module on the right side of the homepage.
New Look! Today's News
Arm yourself with awareness! This section of Tarot, Horoscopes, Astrology, and Numerology articles has been updated to give you the most timely and relevant information.
Moved: TrialPay Free Readings & Reports
Let us know what you think about the changes in the comments below!