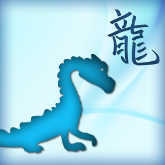 The Dragon's Chinese Horoscope for 2013
Undercurrent events

The outrageous Dragon will experience certain frustrations during the subtle Year of the Water Snake. It will be difficult to pick up on all the undercurrents flowing beneath the surface. Friends, lovers, and colleagues may pretend that all is well, when they're actually seething with resentment. Therefore, you would be wise to study things like body language and verbal cues as a means to understand what is really happening throughout 2013.
Curious to see how your specific Chinese sign will fare this year? Try an Essential Chinese Astrology Profile to find out!
Happily, this year is ruled by the Water element, which has tremendous benefit for the Dragon. Water's meandering energy can soothe the irritable Dragon, prompting you to slow down and smell the flowers. 2013 will be a wonderful opportunity for the Dragon to rest, relax and rejuvenate. The therapeutic energy of a Water Year will also make it easier for your distracted sign to focus details and complete projects.
The Dragon's vibrant health should remain strong during the Year of the Water Snake. Plenty of outdoor activity is advised, as the languorous energy of 2013 can make you a bit restless. Hiking, biking, running, and nature walks will help the Dragon burn off all the nervous energy that can accumulate during a Snake year.
Carelessness can cause problems for the Dragon during the Year of the Water Snake. A failure to proofread work or make an appointment can be disastrous. The Snake has a way of biting those who refuse to tread carefully. By taking an extra measure of precaution in everything you do, the Dragon can emerge unscathed in 2013.
The Dragon's love horoscope
As far as romance is concerned, the Year of the Water Snake should be a time of caution for the Dragon. Nobody is what they seem during a Snake year, which is distressing for Dragons, who prefer to know where they stand in relationships. Single Dragons may opt to remain independent, rather than risk a painful bite from a treacherous love interest. Of course, the attractive Dragon will never lack for admirers. Still, it may be best for you to go solo during a deceptive Snake year.
Dragons that are in committed relationships need to take a gentler approach to their partners. The slow pace of a Water Snake year makes you impatient, but you take out their frustrations on your mate, trouble will ensue. You should take care not to become an overbearing tyrant in 2013. Instead of making more demands, the Dragon should seek ways to become more helpful to their lover.
The Dragon's money horoscope
Financially, the Year of the Water Snake will be a little lackluster for the Dragon. Income should be steady, but there probably won't be any big raises or bonuses. That will come as a disappointment, but there shouldn't be a loss of income, either. If you become unemployed, you'll likely be able to find another job fairly quickly. Friends will be instrumental in finding work for Dragons. Fortunately, your gregarious sign probably has a vast network of business contacts that will be glad to lend assistance.
Opportunities with overseas vendors are especially favored in 2013. Business travel is likely and will provide a welcome change of pace for your restless sign. If you're considering a career change, opportunities involving broadcast media, publishing, and transportation are especially favored in 2013. Water Snake years often stimulate jobs in the communications field, too. For the most part, however, Dragons will prefer to stay put this year, choosing security over adventure.
Don't forget to see what the year ahead holds for your sign with an Essential Chinese Astrology Profile!