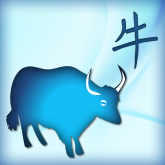 The Ox's Chinese Horoscope for 2013
Follow your instincts

The sensitive Ox has a friend in the Year of the Water Snake, which values keen perceptions. By tuning into their instincts, the Ox can achieve both personal and professional success this year. If someone seems honest but makes you feel distrustful, you'd be wise to keep your distance. Similarly, when you feel a strong urge to pursue a seemingly crazy plan, you should you're your intuition. The Year of the Snake doesn't tend to steer the Ox wrong.
Curious to see how your specific Chinese sign will fare this year? Try an Essential Chinese Astrology Profile to find out!
Because this year is ruled by the Water element, life will slow to a pleasant pace for the leisurely Ox. Instead of being pressured to complete jobs on impossible deadlines, you can finally find a manageable timetable. Woodwork, knitting, pottery, brewing, gardening, and baking are the sorts of activities that will encourage the Ox to go with the flow.
Snake years encourage change, so the Ox would be wise to expand their repertoire in some meaningful way. Business owners should develop new products and services. Employees can update their skills. Managers should cultivate stronger, more supportive relationships with staff. Oxen can be notoriously stubborn. By demonstrating just a little flexibility, you can thrive in the Year of the Water Snake.
Oxen enjoy robust health, but shouldn't take wellness for granted this year. Activities involving a series of small movements, like yoga and isometrics, can be tremendously beneficial. It's also important to get plenty of rest during a Snake year. Afternoon naps and regular bedtimes are strongly advised.
The Ox's love horoscope
A single Ox can find love in the Year of the Water Snake, provided you rely on friends for support. You would be wise to let your friends set you up on dates, and going to parties and professional conferences can also increase your chances for romantic success. Oxen are notoriously shy, which can cause problems during the Year of the Snake. By being a little more aggressive, you could land the partner of their dreams. It will take practice, but the Ox will benefit by venturing out of their comfort zone.
Any Ox that is in a committed relationship should not rest on their laurels in 2013. Snake years emphasize sensuality, so by expanding your lovemaking repertoire, you can pave the way for tremendous happiness. If not, you could be the victim of heartache. Sampling new restaurants, traveling to unfamiliar vacation destinations, and scheduling frequent outings will also solidify relationships for the Ox during this Snake year.
The Ox's money horoscope
Financial prospects for Oxen are excellent during the Year of the Water Snake. A good job that pays well is within your reach, provided you fill out a flurry of applications. Don't be discouraged if such efforts failed to pay off in the past; the Year of the Snake rewards those who are diligent and steadfast. Feel free to negotiate a better salary than you are initially offered. Snake years encourage people to defend their interests.
Developing multiple sources of income is strongly advised for the Ox in 2013. The Snake is versatile and multi-talented, so by venturing out of its comfort zone, the Ox can realize tremendous success. Keep as much money in reserve as possible, as unexpected expenses will probably occur this year. The Year of the Snake always has some hidden surprises.
The Ox should not to cling to old ways of doing business now -- Snake years demand change. Therefore, moving and changing with the times is critical for the Ox's financial success.
Don't forget to see what the year ahead holds for your sign with an Essential Chinese Astrology Profile!