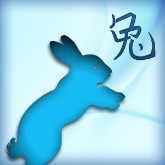 The Rabbit's Chinese Horoscope for 2013
Golden opportunities

The Year of the Water Snake promises to be a prosperous year for the sensitive Rabbit. Snake years reward those who are guided by intuition, which is a natural tendency for the instinctive Rabbit, who has a sixth sense about golden opportunities. Being at the right place at the right time can attract love, money, fame and contentment in 2013.
Curious to see how your specific Chinese sign will fare this year? Try an Essential Chinese Astrology Profile to find out!
Because this year is ruled by the Water element, the Rabbit should have plenty of opportunities to expand their knowledge, and will benefit from all the meditative energy this year will afford. If you decide to gain expert knowledge in your desired career field, success is sure to follow. This is a wonderful year for you to develop your raw artistic talent. Classes in diplomacy, management, and contract negotiation will prove especially helpful.
Snake years involve hidden elements working beneath the surface, which could affect the Rabbit's health. Communicable illnesses like colds, coughs, and flus might wreak havoc on your system. Carry hand sanitizer, eat nutritious foods, and get enough sleep this year. Sugar, fat, and alcohol can weaken the Rabbit's immune system, and should be enjoyed in small doses throughout 2013.
Rabbits will benefit from travelling to places they've never visited before, since the Year of the Water Snake rewards those who are adventurous. Even short trips for pleasure can put you in the path of luck. Creative ideas, romantic interludes, and business contacts are just some of the wonderful gifts travel will bring to the Rabbit this year.
The Rabbit's love horoscope
Love will be available to Rabbits in the Year of the Water Snake, but it will arrive in subtle forms. There is a very good chance that a platonic friendship could turn into a passionate affair, provided you're willing to play the aggressor. This may be difficult for the shy Rabbit, but Snake years reward those who are willing to venture out of their comfort zone. Single Rabbits that are happy with their relationship status will have a lot of fun playing the field throughout 2013. You will not lack for admirers during a sensual Snake year.
The Year of the Snake can make Rabbits restless, causing trouble for those who are in committed relationships. You'll need to take care not to embark on a meaningless fling, or you could lose your partner forever. When the Rabbit gets bored, it should communicate its dissatisfaction. Devising ways to inject more passion into the bedroom can keep you content.
The Rabbit's money horoscope
The Year of the Water Snake will prove profitable for most Rabbits. There should be more money for luxuries, and many Rabbits will launch home improvement projects. Planting flowers, painting rooms, buying artwork, and reupholstering furniture will be a good use of your resources this year. Snakes are associated with beautiful transformations, so any decorating effort will increase the value of your home.
Employed Rabbits will be given new, interesting duties at work. Promotions will be given to many members of this sign. Business-owning Rabbits could see a dramatic increase in customers this year, and it may be difficult to meet orders unless additional staff is hired. Unemployed Rabbits may want to switch industries, but it's better for Rabbits to capitalize on their experience. Snake years can bring you false optimism, so you're better off staying in familiar industries in 2013.
Don't forget to see what the year ahead holds for your sign with a Essential Chinese Astrology Profile!