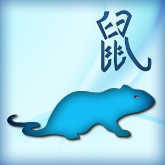 The Rat's Chinese Horoscope for 2013
Mind over matter

The mentally acute Rat appreciates all the intellectual stimulation a Water Snake year affords. Your ability to plan for the future should be rewarded in 2013. Of course, Rats are straightforward creatures that might miss some of the hidden motivations swirling around them. It would be wise for you Rats to stop taking things at face value -- learning to detect hidden motivations will be one of the most valuable lessons the Rat will learn this year.
Curious to see how your specific Chinese sign will fare this year? Try an Essential Chinese Astrology Profile to find out!
Because 2013 is ruled by the Water element, the experimental Rat will feel very comfortable. Water encourages creativity, so it will be no trouble at all finding inventive solutions to stubborn problems. Study will also be of tremendous benefit to the intelligent Rat, as this Water Snake year will further cultivate your natural curiosity. Self-help programs will be especially beneficial for Rats this year.
All the wheeling and dealing associated with the Year of the Snake can create anxiety for the honest Rat. Practicing relaxation techniques is strongly advised, and it's critical for you to take at least one vacation during 2013, as a means to conserve energy.
Making friends and business contacts will also prove helpful to the Rat. The Year of the Water Snake emphasizes quality over quantity, so intimate parties will prove more enjoyable than big bashes. Rats love to mingle, so this trend will be a welcome one. Snake years have a way of improving your social status.
The Rat's love horoscope
The affectionate Rat is always looking for love. Fortunately, the Year of the Water Snake will put several opportunities for romance in their path. The Rat must resist the urge to take a relationship too far, too fast though. Snake years are characterized by caution. By taking the time to really know a love interest, the single Rat can avoid tremendous heartache.
Rats that are already in committed relationships need to be more mindful toward their partners. Too often, Rats jump into action at the first sign of trouble, which can be dismaying for a lover who just wants a sympathetic ear. By being a better listener, the Rat can enjoy great romantic success during the Year of the Snake. Cultivating new interests can also make you more attractive to a partner who may be bored of the same routine. The only thing that should remain constant in a Snake year is change.
The Rat's money horoscope
Job opportunities abound for the Rat in the Year of the Water Snake, however, it will take time to land a secure position. Snake years cause people to linger over decisions, so the Rat needs to be patient when applying for work. It won't hurt to send a follow-up e-mail to the human resources department after an interview. Careful strategies like these can pay off in a big way.
Rats that are currently employed have a good chance of getting pay raises. The Year of the Snake rewards those who work efficiently. This is good news for the Rat, who is a master at performing jobs on time and under budget. Before embarking on a salary negotiation, prepare some charts that illustrate your contributions to the company. Once you strike a deal, make sure to get the terms in writing. Snake years can be deceptive, with people going back on their word at a moment's notice.
Don't forget to see what the year ahead holds for your sign with an Essential Chinese Astrology Profile!