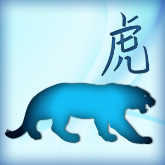 The Tiger's Chinese Horoscope for 2013
Learning to adapt

Frustrations abound for the Tiger in the Year of the Water Snake. This straightforward sign will be bewildered by the Snake year's subtle machinations. By learning to exercise caution, you can avoid trouble. The Tiger should never make assumptions about another person's religious or political affiliations. When it comes to voicing your own opinions, you would be wise to be a little more tight-lipped than usual. Otherwise, you'll probably make quite a few hidden enemies.
Curious to see how your specific Chinese sign will fare this year? Try an Essential Chinese Astrology Profile to find out!
Tigers are impatient creatures, which can pose problems during a cautious Snake year. Instead of pressuring people to hurry up and make decisions, you'd be wise to back off. It will take plenty of time to see results in the Year of the Snake, but when changes do occur, they will be impressive and profound.
Happily, this year is ruled by the Water element, which will be fuel the Tiger's adventurous spirit. 2013 will offer plenty of opportunities to travel and socialize, and a series of trips can prevent you from becoming bored and restless.
As far as health is concerned, headaches can be a problem for the impulsive Tiger. Meditation, guided imagery, and controlled breathing can prove helpful throughout 2013. Such measures won't be necessary, though, if the Tiger learns to slow down and relax. Snake years move at a languorous pace; bucking the trend is an exercise in futility. Tigers seeking robust health will remember to let events unfold in their own good time.
The Tiger's love horoscope
The Tiger faces a pretty lean year as far as romance is concerned. Single Tigers could have difficulty finding someone who shares their interests in this Year of the Water Snake. Furthermore, you'll have no patience for the mind games associated with a Snake year. It might be best for single Tigers to savor their independence this year, rather than forcing a relationship that is rife with jealousy, resentment and conflict.
The Year of the Snake is a little more favorable to Tigers with partners. The key to surviving this confounding year is to make your appreciation known. Snake years often prompt people to become secretive and closed-mouthed. This trend causes great unhappiness for the straight-shooting Tiger. Therefore, take extra care to lavish your partner with love, affection and compliments. The Year of the Water Snake is famed for its sensuality, so you might want to perfect their lovemaking techniques throughout 2013.
The Tiger's money horoscope
Tigers that practice discretion can experience tremendous professional success during the Year of the Water Snake. Opportunities involving building, construction, woodwork, and auto repair are especially favored. Tigers that are in nurturing professions like childcare, catering, and landscaping will also fare well during 2013. The Year of the Snake is always beneficial for work involving planning and preparation.
Snake years often bring tremendous material temptations to the Tiger. Going into debt will prove disastrous. At times, it's necessary to use credit cards to make ends meet, but knowing the difference between necessities and luxuries will help the Tiger to avoid a painful Snake bite. Tigers seeking work can likely find success around June or July, possibly in an entirely new field. The Year of the Water Snake always involves big changes, most often in the professional realm for the Tiger.
Don't forget to see what the year ahead holds for your sign with an Essential Chinese Astrology Profile!