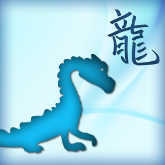 The Dragon's Chinese Horoscope for 2014
All fired up

All eyes will be on the Dragon during the Year of the Wood Horse. Instead of being urged to pull back, 2014 will encourage the Dragon to unleash the full force of its dramatic personality on the world. Opportunities to display this sign's creative talent may abound. The Year of the Horse will bring out the Dragon's best qualities. This sign's warmth, generosity and affection will be evident to everyone throughout the year ahead.
Prepare for all the changes and energy you'll face in your own life this year with a personalized 9-Star Ki Forecast.
Because this year is ruled by the Wood element, the Dragon may feel more flexible, enthusiastic and optimistic. It will be easier for this sign to work with others and promote bold ideas. Instead of trying to dampen the Dragon's zest for life, people will embrace it. Consequently, this sign's popularity could soar in 2014. Their presence will be a breath of fresh air to virtually any group. That's because the Wood element fuels the Dragon's fiery energy.
As far as the Dragon's health is concerned, burnout could be a problem during the Year of the Wood Horse. When this sign experiences signs of nervous tension, it should enjoy some grounding activities. Baking, gardening, woodwork and fiber art are all good ways for the Dragon to keep anxiety at bay in 2014.
The Horse Year can make the Dragon a bit hot-headed. Anger management is critical for this sign throughout 2014. Few people will move as quickly or decisively as the Dragon demands. Instead of pressuring loved ones, colleagues and service people to hurry up, this sign would be wise to practice patience throughout the Year of the Wood Horse.
The Dragon's 2014 love horoscope
Dragons in committed relationships need to make time for romance this year. Otherwise, they could lose a devoted partner. The Year of the Wood Horse provides plenty of distractions. If the Dragon isn't careful, it could experience a terrible breakup. Work will be the greatest obstacle to romance in 2014. Therefore, the Dragon needs to be mindful about spending plenty of quality time with their romantic partner, even if it means cutting back their office hours or taking a less demanding job.
Single Dragons could find romance quite easily this year. Acts of bravery will attract admirers in droves. Fortunately, this sign is famous for its acts of courage. By following its natural instincts, the Dragon could embark on an exciting relationship during the Year of the Wood Horse. People who are adventurous, open-minded and intelligent could prove irresistible to this sign. Admirers who are oversensitive and easily hurt should be avoided.
The Dragon's 2014 money horoscope
Dragons with jobs could be promoted during the Year of the Horse. 2014 rewards those who are creative, bold and flexible. Because the Dragon possesses all of these qualities, they have a good chance for getting raises and impressive jobs this year. It is important for this sign to keep their personal and professional lives separate. The Year of the Wood Horse will be a very busy one for the Dragon. Making a conscious decision to leave the office and stay away from computers and smartphones will bring much-needed balance to the Dragon's professional life.
Unemployed Dragons can receive help from neighbors, relatives and former colleagues in finding work. This independent sign shouldn't be shy about accepting assistance from others in 2014. The Year of the Wood Horse rewards those who are flexible and humble. If the Dragon stops trying to forge a career path by itself, it could land a terrific job this year.