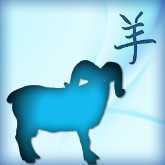 The Goat's Chinese Horoscope for 2014
Strengthening bonds

The Goat will feel valued and supported during the Year of the Wood Horse. Agile and creative, this sign will have no problem meeting the challenges the Horse Year presents. In fact, this will be a welcome chance for the Goat to showcase ability to find solutions to stubborn problems. In past years, people dismissed the Goat as being too gentle and easygoing to handle dilemmas. Actually, this sign operates very well in emergencies, because of its ability to make split-second decisions and detect hidden opportunities.
Prepare for all the changes and energy you'll face in your own life this year with a personalized 9-Star Ki Forecast.
Because this year is ruled by the Wood Element, the Goat will feel especially dynamic in the year ahead. They'll get all the encouragement and support they need to carry out objectives. Therefore, it would be wise for this sign to set special goals this year. Great dreams can be attained, provided the Sheep summons its courage and goes after their heart's desire. Wood years reward bravery.
Friends and family will play an important role for Goat in 2014. The Year of the Wood Horse will enhance this sign's ability to empathize with others. This will strengthen bonds of affection. It may also allow Goat to heal breaches with warring neighbors and colleagues. While the Horse Year will be boisterous for many signs, it should be peaceful for the Goat.
As far as health is concerned, the Goat should take care to keep their immune systems strong. Getting enough sleep, eating well and taking regular exercise will help ward off viruses and bacterial infections.
The Goat's 2014 love horoscope
Spending more time at home should be an increasing priority for Goat in committed relationships. The Year of the Wood Horse emphasizes consideration and cooperation. By acting as an equal partner at every opportunity, the Goat can enjoy tremendous happiness in love. 2014 would be a lovely time for this sign to start a family or buy a home, as Horse Years favor expansion for Goat.
Single Goat can discover heart-stopping romance during the Year of the Wood Horse. This sign will be irresistibly drawn to athletic, upbeat types. Falling in love at first sight is a distinct possibility for the Goat in 2014. Great emphasis will be placed on sexual chemistry. This sign won't settle for a merely pleasant physical relationship; it should hold out for red-hot passion. The Goat needs to steer clear of sticks-in-the-mud who always complain about their lot in life. Such whiners will make them miserable.
The Goat's 2014 money horoscope
Money shouldn't be a problem for the Goat during the Year of the Wood Horse. People will be seeking out this sign's creative talent for a number of lucrative jobs. For Goat who are steadily employed, opportunities for raises and bonuses will abound. It's simply a matter of this sign asserting its gift as a team player. Bringing colleagues and clients together in a spirit of harmony could pay off handsomely for the Goat in 2014.
Job-seeking Goat would be wise to seek help from former co-workers and employers. The Wood Horse Year brings assistance from past associations for this sign. A glowing letter of recommendation can help the Goat land a position at a respectable company. It's possible this sign will have to accept an entry-level job at first, but that won't hurt the humble Goat's pride. Besides, the Goat can get ahead very quickly during a fast-moving Horse Year.