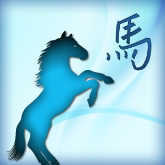 The Horse's Chinese Horoscope for 2014
Reign it in

The Year of the Wood Horse is filled with excitement and possibility for the Horse. Opportunities to travel, socialize, find romance and attract money will abound. The key to the Horse's success in 2014 is to narrow its focus. Biting off more than it can chew is often a problem for this sign, especially during its host year. Therefore, Horses should take a few minutes to reflect on their heart's desire. Narrowing down goals to two or three objectives is strongly advised.
Prepare for all the changes and energy you'll face in your own life this year with a personalized 9-Star Ki Forecast.
This year is ruled by the Wood Element, which can further fuel the Horse's passion for life. This sign could feel invincible in the year ahead, taking chances that make others gasp with admiration and concern. Entering a marathon, contest or game of skill will be a good outlet for the Horse's competitive spirit. This sign should be wary of becoming indecisive, as Wood years often involve a bewildering array of options.
New paths can open for the Horse this year. The Year of the Wood Horse marks dramatic changes, especially for those born under this sign. Moving from the city to the country (or vice versa), changing career fields and embarking on a serious romance (or leaving one) are among the possibilities. 2014 is the perfect time for the Horse to make a dramatic transformation.
Horses can be accident-prone this year. Wearing safety equipment while playing sports and operating heavy equipment is essential for this sign. It would also be wise for the Horse to avoid foolhardy activities, but that may be easier said than done.
The Horse's 2014 love horoscope
Horses in committed relationships will be heroic in romance. The Wood Horse Year brings out this sign's naturally protective nature. Relieving their partners of terrible stress can strengthen bonds of love. Many members of this sign will work while their mates recuperate from illness, take sabbaticals or search for jobs. The Horse may decide to leave work temporarily to become a full-time parent to a child who needs an extra bit of support. Such selfless gestures will go a long way toward bolstering this sign's love life.
Single Horses can find love quite easily in 2014. Sporting events, camping trips and nature walks can put this sign in the path of romance. The Horse would be wise to pair up with someone who is enthusiastic, intelligent and curious. Admirers who are predictable, cautious and conservative should be kept at a distance. Keeping jealousy under control could be the Horse's biggest romantic challenge this year.
The Horse's 2014 money horoscope
When it comes to money, the Horse will face stiff competition. Business owners will be coping with cut-rate rivals. Job seekers may have difficulty getting responses to applications. People in established careers will have to distinguish themselves from up-and-comers within the organization. Fortunately, the Horse is up to the task. By putting forth its best efforts, this sign could land an impressive promotion, job title or reward. Self-employed Horses shouldn't feel pressured to lower their prices to beat the competition. Instead, offering superior customer service and products will put them in the winner's circle.
Many Horses will decide to change fields this year. The Year of the Wood Horse can create feelings of restlessness. People with this sign who aren't happy with their jobs may decide to do something entirely different. Such a shift is favored, so long as it isn't made in haste. Careful thought should be made about what kind of industry will suit the Horse best.