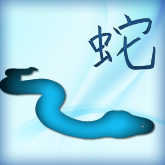 The Snake's Chinese Horoscope for 2014
Slithering into action

The Year of the Wood Horse could be a time of rapid upheaval for the Snake. Horse Years lend a sense of urgency to life, which doesn't sit well with this contemplative sign. Unless the Snake learns to move a bit faster, it could experience difficulty in 2014. The best way for the insightful Snake to thrive is to be less deliberative and more decisive. There simply isn't time to do all the research the Snake enjoys during a hectic Horse Year.
Prepare for all the changes and energy you'll face in your own life this year with a personalized 9-Star Ki Forecast.
Because this year is ruled by the Wood Element, the Snake will feel a bit more energetic than it has in recent years. All of the sudden, it will be easier for this sign to put bold ideas into motion. Exciting new opportunities will enable the Snake to express its artistic side. Painting, writing, dancing and playing music could bring the Snake tremendous fulfillment in the year ahead.
As far as health is concerned, Snakes should establish sensible health routines. The Year of the Wood Horse often involves sudden changes. A fitness regimen can bring some welcome stability to this sign's life. Muscle-building activities like hiking, biking and nature walks are strongly favored for Snakes throughout 2014.
Family life is often comforting for Snakes during the Year of the Wood Horse. Enjoying home-cooked meals can cultivate contentment at this frenetic time. Snakes that are estranged from their kin would be wise to cultivate strong support networks consisting of friends, neighbors and colleagues. The Horse Year emphasizes togetherness for this self-contained sign.
The Snake's 2014 love horoscope
The Year of the Wood Horse could prove wonderfully romantic for committed Snakes. An added dose of passion may be detected in even the most settled relationships. This is a marvelous time to experiment with new lovemaking techniques. Traveling can also enhance the pleasure between Snakes and their partners. During a Horse Year, glamorous destinations can bring out this sign's sensual side.
Single Snakes can also find love in 2014. Romance could take flower at a museum, gallery or movie theater during the Year of the Horse. That's because the sociable nature of this year can coax the Snake out of its lair, putting it in the path of new opportunities. Secretive Snakes who want to begin relationships should push themselves out of their comfort zones. Exploring unfamiliar hangouts could have fantastic romantic rewards for the Snake in the Year of the Wood Horse. Taking risks will pay off for this cautious sign.
The Snake's 2014 money horoscope
2014 can bring promotions for employed Snakes. This sign's hard work, discipline and intelligence shine during Horse Years. Snakes who want raises should lobby for them now, while the Wood Horse is urging them forward. Employers will work hard to keep Snakes on their rosters. Many Snakes will get tuition reimbursement from their companies this year, thanks to an added emphasis on education. This sign should curb its tendency to become jealous, as it is more helpful to make friends than enemies in a competitive Horse Year.
Unemployed Snakes could find stable income during the Year of the Wood Horse. That's because Horse Years reward ingenuity, which is the Snake's strong suit. When going on job interviews, this sign should emphasize its ability to develop creative solutions to stubborn problems. Families can also provide financial support to Snakes throughout 2014, easing the pressure to pay bills and save money.