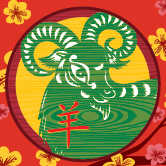 2015 Year of the Sheep Horoscope
Keep a positive attitude in the Year of the Green Wood Sheep

February 19, 2015, opens the Chinese New Year of the Green Wood Sheep -- also known as the Year of the Goat. A placid herbivore, the Sheep is an animal associated with peace and tranquility. Therefore, 2015 will be distinguished for its diplomacy, harmony and philanthropy.
Prepare for all the changes and energy you'll face in your own life this year with a personalized 9-Star Ki Forecast.
This is a wonderful time to extend an olive branch to enemies and forgive past wrongs. People undergoing divorces will be able to arrive at amicable settlements. Legal battles can be resolved by arbitration, and class-action settlements can come to satisfying conclusions for all parties involved.
Creative partnerships in the Year of the Wood Sheep
Sheep years are associated with courtesy and cooperation. Forming romantic and business partnerships will prove successful. It's also a good time to breathe new life into stale marriages. Tender gestures, loving communications and considerate behavior will strengthen good unions and repair strained ones. Getting engaged or married is highly favored in 2015, as is forming a business alliance or creative partnership.
The arts are associated with the Sheep. Creative types will be especially prolific this year, taking time to write, paint, design and play music at every opportunity. Even people who aren't especially imaginative will be able to devise brilliant breakthroughs to stubborn problems.
Artists won't be the only ones making extra money in 2015. A nurturing sign, Sheep years favor caring professions. Careers involving nursing, teaching, catering, farming, restaurants and hotels should thrive. Work related to business management, accounting and technology will not be plentiful. People in these fields should be conservative with money and postpone job searches until next year.
Family matters in the Year of the Wood Sheep
Family support is readily available during Sheep years. If you have a big dream, turn to your nearest and dearest for help. Generous relatives will be happy to provide emotional support, money, housing and food while you work toward your goal. Expanding your family is also favored in 2015. This would be a marvelous time to have a baby or adopt a child. Any addition to your household will add an element of joy and excitement. Be willing to relax rules to accommodating the changing needs of your household. Sheep thrive best when given a wide field in which to graze.
Of course, every sign has its weak points. It's difficult to make decisions during Sheep years. When choices become critical, it may be easier to flip a coin than deliberate endlessly between two options. Pessimism can also be a problem in 2015. Beware of giving in to despair at the first sign of trouble. Combat negative attitudes with patience and persistence. Mood swings are also unfortunate outgrowths of Sheep years. Dealing with highly emotional people will be a challenge. It may be difficult to hear the voice of reason this year.
When it comes to health, 2015 is all about balance. Sheep benefit from regular routines. Avoid fad diets, extreme exercise regimens and excessive sleep this year. Eye problems can flare up during Sheep years. It's a good time to get vision checked, update corrective lens prescriptions and monitor glaucoma. Problems with the bladder, urethra and kidneys can also occur. Flushing out the system with plenty of water can be particularly beneficial this year.
Learn new things in the Year of the Wood Sheep
Ruled by the Wood element, 2015 is an excellent year for educational initiatives. Going back to school, earning an advanced degrees and winning scholarships are all favored. Honesty is the best policy during Wood years. Be truthful in all areas of life. People who tell even white lies can encounter terrible difficulties. On the plus side, Wood is associated with justice. If you've been the victim of unethical behavior, file a court case. Justice will prevail. You might even be able to settle out of court, because dishonest people will be eager to avoid trouble.
A flexible element, Wood years favor compromise. Instead of insisting on doing things a certain way, work to meet in the middle. People who are flexible will reap significant rewards during 2015. Getting adjusted to unfamiliar environments should be easier than usual. Any changes that are imposed to the old routine will be beneficial. Don't cling to outmoded traditions and set routines; moving with the times will pay off handsomely in the Year of the Wood Sheep.
Wood is associated with fresh growth. Embarking on a romance, launching a business and having a baby are all favored. Many people will abandon dead-end jobs for more promising careers in 2015. Endeavors involving computers, electronics, scientific research and communications are all favored. Teaching and writing can also prove profitable alternatives for people seeking career changes.
Venture beyond your comfort zone in the Year of the Wood Sheep
Compassion is a virtue during Wood years. Volunteering at charitable institutions, raising funds for good causes and championing the underdog will attract good fortune. This is no time for world-weary cynicism. Remember that people are essentially good and the universe is endlessly bountiful. Such a positive attitude will reap significant rewards this year. Wood years do encourage self-sufficiency, so forcing needy people to stand on their own may be the best form of help you can offer.
The Wood element favors exploration. Therefore, travel will be beneficial throughout the year. Exploring foreign countries and experiencing different cultures will lead to tremendous breakthroughs. The more exotic the destination, the better the trip will be. People who are willing to venture out of their comfort zones will have tremendous breakthroughs in 2015. Wood years are associated with excessive spending, so traveling on a budget is strongly advised. Instead of opting for luxury accommodations, consider staying in highly recommended hostels. Traveling with a large group can also be economical.
Powers of persuasion are strong during years ruled by the Wood element. This is a great time to ask for favors and request forbearance. If you want to expunge your record, make a fresh start or improve your credit, 2015 is a great time to do so. Gather recommendations from influential people. Repay debts. Attend training courses or go to rehab.
Sincere efforts at self-improvement will lead to second chances and new beginnings in the Year of the Green Wood Sheep. 2015 offers a splendid chance to leave troubled pasts behind. Take advantage of this marvelous energy.