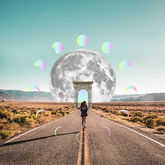 Full Moon in Cancer Horoscopes: Home Is Where the Heart Is
Read your sign's horoscope for the Full Moon in Cancer now!

The Full Moon in Cancer on January 1, 2018, opens the emotional floodgates, but not everyone is comfortable with so many feelings floating in the atmosphere. This Full Moon connects with Mars, Jupiter, and Neptune in a Grand Water Trine, inspiring deep feelings of love and tenderness. Your vulnerability is at stake if you wear your heart on your sleeve, but somber Saturn in no-nonsense Capricorn might shut you down before you get the courage to express your heart.
This sentimental Cancer Full Moon falling on New Year's Day gives you one more chance to reminisce and reconnect with family and friends as you wander down Memory Lane. Taking a dreamy detour into your imagination is delightful, but keep your map handy as you will be expected to focus on your future destination as soon as tomorrow. Re-examining your past mistakes and accomplishments enables you to create a constructive list of resolutions to set you up for success in the year ahead.
The Capricorn Sun's ambitious attitude is reinforced by the solidarity of Venus, Saturn, and Pluto now, instructing you to worry less about your feelings and more about your achievements. This earthy practicality sets a directive for creating structures and systems that will stand the test of time, but the sensitive Cancer Full Moon illuminates the need to be gentle with hearts, especially your own. Clearly, John Lennon was a beautiful dreamer when he wrote the song "All You Need Is Love," but committing to kindness establishes a foundation of integrity upon which you can build.
A Self-Healing Tarot Reading delivers the help and hope you need during this emotional Full Moon. Start yours now »
Keep reading to see how this Full Moon in soft-hearted Cancer can impact your sign as we start the new year.
Aries Horoscope (March 21 - April 19)
The idea of cozying in and reveling in the simple comforts of home is strangely appealing to you during this cuddly Cancer Full Moon. You can hear responsibility calling loudly in the distance and are acutely aware this may be your last chance to rest before you return to leading the pack in the rat race. There will be little time for contemplation once you are busy helping others climb the ladder of success. Refine your resolutions, reprioritize your relationships, and recognize your limitations. Although you often appear as a superhero to your fans, you need a better long-term plan than burning the candle at both ends. Create a sustainable strategy for conquering the world, and then share it with everyone else.
Taurus Horoscope (April 20 - May 20)
Spinning your dreams for the future is a lovely way to pass the time, especially if you are in the company of those who know you best. A mutual exchange of ideas gets the ball rolling as you toss inspiration back and forth until it grows into something tangible enough to run with down the field. It may seem as if most folks don't understand your creative methods, but you only need one receiver to catch your touchdown pass. Perhaps the needs of your heart feel neglected during this Cancer Full Moon, but there is an emotional safety net available if you are willing to commit to something larger than your own ambitions. Encouraging others to reach for the stars makes you a winner in everyone's book.
Gemini Horoscope (May 21 - June 20)
You might have a habit of wrapping up your self-worth in your work, leaving you feeling a little melancholy during this Cancer Full Moon if you believe your relationships are suffering due to your personal ambitions. Your dreams of material success fuel your daily determination to achieve your goals, but the hollow feeling in your chest may make you doubt your priorities. Focusing on re-establishing connections with those who matter most is the fastest fix to what ails your heart. Sharing your hopes and fears is the first step to sorting out what you want. Finding work that feeds your soul is the secret to your happiness.
Cancer Horoscope (June 21 - July 22)
Swimming in the watery world of your feelings seems safe during this nostaglic Cancer Full Moon, especially if you are surrounded by close friends and family. But you might find the unconditional love you give so freely is something you must earn from others now. You can't help but wish you could express your disappointment, but you intuitively know you will only make matters worse. This reoccurring dilemma is especially poignant as you wonder if you spend too much time tending to the needs of everyone else when your own are left unmet. Discovering the sweet spot where your heart's desires matter as much as anyone else's is the key to your emotional fulfillment.
Leo Horoscope (July 23 - Aug. 22)
Curling up with a good book in front of the fire or stretching out on the couch for a movie binge sounds like a perfect remedy for the holiday blues or the lingering hangover. The only problem is that you can't completely relax when your to-do list keeps whispering in the back of your mind. Staying home makes sense during this Cancer Full Moon, but crossing a few items off that pesky list will place you in a more strategic position in the days ahead. Creating new habits where work comes before play lets the world know you mean business. A satisfying feeling of accomplishment makes your leisure time much sweeter in the end.
Virgo Horoscope (Aug. 23 - Sept. 22)
The party isn't over, and you plan on squeezing every last drop of fun out of this holiday season. Your laughter is contagious, and your playful spirit encourages others to join you in making the most of the Cancer Full Moon's love light. A spontaneous creative collaboration points to a possible path of personal growth if you are willing to keep the door of your heart open. Relationship magic is in the air, but there is real work to be done if you want romance to materialize into something tangible. Love is your bridge to happiness.
Libra Horoscope (Sept. 23 - Oct. 22)
Everyone expects you to be the consummate host for a social outing, and you are innately qualified for the job. But it is so easy to get swept up in pleasing others that you misplace your wishes in the process. There could be an internal tug-of-war playing out as you secretly long to be in two places at once. You might wonder if it isn't a better idea to remain home during this Cancer Full Moon, so you can polish your resolutions and finalize your plans for the year ahead. But you know you would end up missing the fun if you bailed at the last minute for the sake of personal time. Demonstrate your love by showing up when it counts.
Scorpio Horoscope (Oct. 23 - Nov. 21)
Your feelings are flowing like a river to the sea and there is no point in trying to contain emotions that must be expressed. You are passionate about expanding your horizons during this Cancer Full Moon, and are willing to do almost anything to satisfy your craving for adventure. Typically, it's not prudent to make decisions when your heart is calling all the shots, but the cosmic tides are rolling in your direction now, offering you a magical opportunity you can't refuse. Taking a leap of faith is the most reliable path to personal growth.
Sagittarius Horoscope (Nov. 22 - Dec. 21)
Slipping off to explore your dreams is your not-so-secret strategy to avoid the emotions that are knocking at your door. Deep-diving into your feelings might seem like the last thing you want to do, but there is priceless treasure waiting to be discovered if you're willing to put aside your discomfort and share your heart. Long-buried secrets may surface during this Cancer Full Moon, and you fear that the truth will be too tough for others to hear. But your intuition is telling you that being vulnerably honest is the only way to build trust. Go big or go home.
Capricorn Horoscope (Dec. 22 - Jan. 19)
You can't wait to begin active pursuit of your ambitions, and are already busy putting all the details in order so you can launch your plans as soon as the holidays are over. The potential for productivity is off the charts, but people seem emotionally needy during this moody Cancer Full Moon, interrupting your drive for success. You might think you don't have time to hold anyone's hand when you are climbing a mountain. But you may need to re-examine your priorities one last time to make sure you don't minimize the importance of your relationships. Selflessly giving your time and attention to those you love honors your heart.
Aquarius Horoscope (Jan. 20 - Feb. 18)
Starting off the new year on the right foot with proper diet and lots of exercise not only feels good, but also sets the tone for establishing positive patterns in the future. Recruiting family members or friends to join your health kick isn't a selfish move on your part; you truly believe they will benefit just as much as you if they improve their habits. Be careful not to push your agenda too enthusiastically during the Cancer Full Moon, or resistance will surely follow. State your case and then let it go. Drawing on your dreams to create the structure you want in the real world is a constructive use of your imagination. Leading by example is the best way to convince others to change.
Pisces Horoscope (Feb. 19 - March 20)
You shine like a star when your sparkly heart acts as a bright beacon for your circle of friends. Your brilliant ideas and colorful creativity inspire others to join your cause to give back to the community. Fun and games are definitely on the agenda during this watery Cancer Full Moon, but discussing your plans for the future with someone who understands your altruistic intentions helps you focus your ambitions. Harness the power of your imagination to make this world a better place, but don't think for a minute that you need to carry all the burden on your shoulders. Teamwork makes the dream work.
Content written by Morgan Friday
Start your Self-Healing Potentials Tarot Reading for the healing guidance you need now »