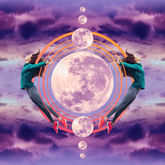 Full Moon in Capricorn Horoscopes: Reaching the Mountaintop
Read your sign's horoscope for the Full Moon in Capricorn

The Full Moon rises in ambitious Capricorn on June 28, 2018, making it a wonderful time to realize goals and attain prominence. A great deal of hard work and sacrifice is indicated with this breakthrough, since the Moon is conjunct taskmaster Saturn. Taking a test for the second time, revamping a flawed project, or overcoming a stubborn addiction are among the possibilities. By staying focused on your dreams and refusing to fall victim to pessimism, you will achieve great success.
Independent Uranus forms a trine to this Full Moon, indicating that your achievement will give you a greater measure of freedom. It will be a tremendous relief to leave behind a serious course of study, a restrictive work relationship, or a demanding workout regimen. Embrace your liberty.
Read your sign's Full Moon in Capricorn horoscope below to learn more...
Activate positive change in your life using the power of this Full Moon! »
Aries Horoscope (March 21 - April 19)
An impressive career achievement is on its way. A raise, promotion, or both is your reward for having worked harder than anyone else. If you've been yearning to transition to a more rewarding industry, you'll get an impressive job offer. Have you been planning to launch your own business? You'll finally get a green light, courtesy of this supportive Full Moon.
Unexpected moneymaking opportunities could also arrive. Investing in an emerging technology, taking on a last-minute freelance assignment, or upgrading your computer equipment may dramatically increase your income. Embrace cutting-edge gadgets and business models; they will work to your financial advantage. It's also possible you'll discover a hidden talent that can improve your earning potential.
See how this present moment can impact your future success »
Taurus Horoscope (April 20 - May 20)
Earning an advanced degree, moving overseas for business, or going on a book tour are among the exciting possibilities with this Full Moon. People are eager to benefit from your superior knowledge and experience. Instead of having to deal with restless beginners who are easily distracted, you'll be working with dedicated students who desire master status. The difference will be gratifying.
Although you tend to enjoy familiar routines, the Full Moon will inspire you to try something new. Adopting a fashion-forward look, undergoing a cosmetic procedure, or revamping your wardrobe are all possible. Alternately, you may decide to change your name or adopt a different role. Venturing into unfamiliar territory will work to your advantage.
Find out how the changes you make now can impact your present and future life »
Gemini Horoscope (May 21 - June 20)
Paying off a debt, establishing a retirement account, or embarking on early retirement are among the thrilling chances at your disposal near this Full Moon. After taking a disciplined approach to finances, you have something impressive to show for it. Long-term economic stability is your reward for changing your attitude toward spending, saving, and earning money. Don't feel pressured to bail out irresponsible people who let others pay for their mistakes. You've earned the fruits of your labor; enjoy them.
A chance to buy a radically discounted vacation property will fall into your lap. Purchasing a place that allows you to commune with nature could have a dramatic impact on your spiritual life. Learn how to slow down and smell the flowers.
Get more personal advice about your financial future now »
Cancer Horoscope (June 21 - July 22)
Your reputation for fairness will pay off handsomely during this Full Moon. Don't be surprised if you win a prominent client, customer, or patient at the end of June. Not only will this alliance boost your professional reputation, but it will increase your income. If you've been looking for love, you'll find it with an accomplished person who appreciates your own extraordinary achievements. Instead of feeling like rivals, you'll become equal partners. You'll be the very definition of a power couple.
Joining a support group, athletic team, or professional organization is another possibility. You'll enjoy rubbing elbows with fellow enthusiasts. Be prepared to listen to revolutionary ideas about recovering from illness, improving performance, and conducting business.
Find out how this Full Moon can impact your immediate future with a Timeline Tarot Reading »
Leo Horoscope (July 23 - Aug. 22)
You won't let anything stand in the way between you and vibrant health. Whether this means leaving a stressful job, ending a toxic relationship, or relocating to a more uplifting part of the world is immaterial. The important thing is to trust your instincts about what you need to thrive. When you feel good physically, you'll attract financial and romantic opportunities that seem miraculous. These lucky breaks are not accidental; they are a reward for cultivating wellbeing.
A fresh career opportunity may force you to make a split-second decision. Although you like to deliberate over these kinds of important choices, that may not be possible. Be ready to quickly accept a job offer that seems tailor-made to your desires.
Get the help and hope you need now from a Self-Healing Tarot Reading »
Virgo Horoscope (Aug. 23 - Sept. 22)
Completing a creative project will cause your confidence to soar. After a great deal of hard work, practice, and dedication, you have finally achieved master status. People seeking the most talented artisans will beat a path to your door. Be selective about the customers with whom you choose to work. Collaborating with appreciative people who are willing to pay top dollar is the only way for you to go.
A sudden opportunity to teach a class or earn an advanced degree could fall into your lap. Be open to participate in a cutting-edge educational program. Although this method of learning is highly unusual, it's also very effective. Put your assumptions aside for the sake of expansion.
Get personal advice for your professional future now »
Libra Horoscope (Sept. 23 - Oct. 22)
Learning to take care of your needs first is one of the most valuable skills you can master. You love caring and sharing, but will have nothing to give if you bleed yourself dry. Use the power of this Full Moon to nurture yourself. Give yourself the VIP treatment. Get a massage, visit a spa, take a luxury vacation, or treat yourself to an expensive item on your wish list. When you treat yourself with respect, others will follow suit.
Undergoing a powerful personal transformation could happen quite suddenly. Be willing to adopt a radical plan aimed at recovering from an addiction, illness, or injury. You'll be pleasantly astonished by how effective this program is.
A little personal healing can go a long way now! Find out how »
Scorpio Horoscope (Oct. 23 - Nov. 21)
Acquiring a valuable skill will greatly improve your job prospects. Whether you learn a foreign language, computer code, or musical instrument, this knowledge will help you earn more money. Becoming a respected expert in the field will allow you to work smarter, not harder. Feel free to set premium prices for specialized services. Very few people can do the work you can perform. You're exceptional and should charge accordingly.
An unorthodox partnership will work to your advantage. Don't hesitate to work with someone who uses unconventional methods to make money, create art, and provide luxury. Their innovative ways will uplift and inspire you. Abandon your assumptions and allow yourself to be guided down an unfamiliar path.
Get straightforward advice for your professional life now! »
Sagittarius Horoscope (Nov. 22 - Dec. 21)
This Full Moon could mark the beginning of long-term financial stability. Whether you land a lucrative job, make a big sale, or launch a successful business, you will have lots more money with which to play. Before going on a spending spree, give yourself a chance to sit with your newfound wealth and reflect on your priorities.
An unusual work assignment could drop out of the clear blue sky. Getting the chance to work with cutting-edge technologies and emerging trends will be a welcome challenge. You're not the type who can thrive while performing routine tasks. Being forced to think on your feet will pave the way for a joyful work experience, making you feel effective and confident.
See how this Full Moon can impact every facet of your life with a Horoscope Tarot Reading »
Capricorn Horoscope (Dec. 22 - Jan. 19)
This Full Moon presents a golden opportunity to capitalize on your leadership skills. Being able to call the shots in your personal and professional lives is rewarding. Others may need guidance for setting their course, but not you. Execute a business plan or creative idea; the results will delight you.
Embarking on an exciting romance will transform your priorities. Instead of pouring all your energy into work, you'll look for ways to take lengthy vacations, enjoy prolonged romantic interludes, and spend less time at the office. This is a healthy shift that will alarm outsiders, but feel perfectly satisfying to you. If you already have a partner, plan an exotic trip that appeals to you both.
Look further into your love life prospects and get personal advice now »
Aquarius Horoscope (Jan. 20 - Feb. 18)
Listening to your intuition will yield handsome rewards. While everyone is urging you to follow a conventional path, you'll feel the urge to satisfy your spiritual needs. This decision will have a profound impact on you and everyone you love. If a proposal makes you uncomfortable or a job turns you off, back away. An enriching alternative will quickly replace it, causing people to marvel at your psychic ability.
An opportunity to live in an ultra-modern home could fall into your lap. You'll enjoy taking advantage of time-saving devices that work extremely well. Instead of having to devote so much time to household chores, you'll be able to concentrate on the activities you enjoy.
Connect with your intuition now and get the personal advice you need »
Pisces Horoscope (Feb. 19 - March 20)
You may be asked to assume leadership of a prominent organization. It's no accident that so many people have faith in your abilities. You have a long history of being able to work with people from all walks of life. Your flexible and creative approach is extremely effective. Even when you make decisions that disappoint a few people, everyone can agree you are working in the group's best interests.
If you feel inspired to reach out to a person you admire, do it. A brief e-mail or phone call could pave the way to a very productive relationship. You'll enjoy learning new ways to promote your abilities and share your knowledge in brief, captivating, and intriguing ways.
Steer yourself in the right direction now with advice from a Mandala Tarot Reading »