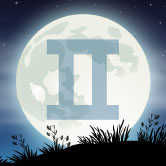 Full Moon in Gemini: A Kaleidoscope of Dreams
Read your sign's horoscope for the Full Moon in Gemini

The surreal winds of the Gemini Full Moon on December 3, 2017, oppose the idealistic rays of the Sagittarius Sun, sparking burning curiosities, fickle flirtations, and endless conversations. The cosmic noise factor is amplified by Mercury turning retrograde the same day, leaving everyone a bit dazed and confused for the next three weeks. Also during this Full Moon, a blurry Moon-Neptune square plus a fuzzy Jupiter-Neptune trine magnify dreams, adding a wide-angle distortion filter to the picture; it's almost impossible to see the truth even when it is staring back at you. This is a metaphysical showdown -- facts vs. beliefs, spiritual vs. superficial, and clarity vs. illusion. Dancing with a myriad of dualities can be an entertaining and enlightening experience if emotional flexibility, mental agility, and a swift wit are always within reach.
Get the personal insight you need now with your own 10-Card Celtic Cross Tarot Reading.
Time warp
Time travel may seem like a viable option while the Gemini Full Moon lights up the galaxy, and mystical Neptune weaves enchanting threads from the past, present, and future into a cosmic tapestry where memories intersect with dreams. Mental Mercury's standstill during this busy Full Moon tosses a monkey wrench into an already overpacked calendar, warning you to doublecheck packages and plans as you prepare for the holidays ahead. Alleviate Mercury's distracting influence by exercising the retrograde remedies of discernment, discretion, and discipline. Observing the "rule of re" allows you to harness the true power of this often-misaligned planetary cycle. Steer clear of new business while you realign your priorities, reassess your finances, re-evaluate your relationships, review your achievements, reconnect with friends, and recommit to your dreams. Personalize this list to fit your needs and you will have a master plan for conquering the extra stress of this holiday season.
Infinite realities
This perpetually curious Gemini Full Moon casts variety as the spice of life and a plethora of possibilities sparkle in its illuminating light. Talking seems to be all the rage with everyone having their own cause to promote or philosophy to espouse, but it all starts to sound like radio static if everyone is speaking at once. Repeating past stories or forgetting significant details is pretty much guaranteed now, but the distraction ratio is off the charts so it's easy to overlook mistakes. Resist the temptation to fill up the space with lots of words if your message is tired or of little substance. Exercise your creativity by adding an intelligent voice to the debate. Tap into your spiritual side for new answers to old questions.
Neptune, the planet of magic and illusion, squares off with this flighty Gemini Full Moon, prompting you to wonder what is real and what is imagined. Permissive Jupiter's presence in the picture encourages you to explore your world with relish and abandon, but extreme measures must be taken in moderation. Embarking on an adventure is a logistical nightmare now, but you can travel anywhere you wish in your mind. Stepping out into the great wide open may feel frightening at first -- which is why so many reach for an easy escape. Resist the temptation to give in to your fears and stretch your spiritual muscles, instead. All that glitters isn't gold but your dreams are a priceless resource. With so many worldly distractions at your feet, consciously choosing a path of enlightenment sets an inspiring example. Experiment with the concept that energy flows where attention goes by centering your focus on what matters most. Your imagination is the doorway to your heart.
Full Moon Tools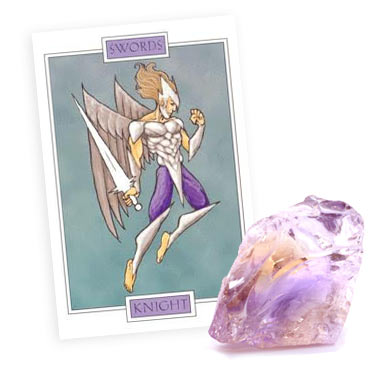 Tarot Card of this Full Moon:
Knight of Swords
Mischievous Mercury plays a starring role in this Gemini Full Moon feature film. The Greek god Hermes (pictured in this Knight of Swords from the Winged Spirit deck) was later named Mercury by the Romans. The winged messenger is the original superhero, shuttling messages between the material world and other dimensions. The fearless Knight's love of adventure and pursuit of knowledge correspon with the idealism of the Sagittarius Sun. Be courageous and clever as you expand your mental, physical, and spiritual horizons.
Crystals for this Full Moon:
Ametrine (pictured): a combination quartz containing amethyst and citrine. This sweet stone alleviates stress, clears mental fog, offers spiritual clarity, sharpens intuition, enhances learning, and unleashes creativity
Clear apophyllite: boosts brain power, encourages truth-telling, facilitates journeys, fosters inter-dimensional communication, and strengthens the connection to one's higher self
Watermelon tourmaline: instills patience, assists one in expressing intentions clearly, cultivates serenity and synchronicity, and shifts the consciousness from the brain to the heart
---
This inquisitive Gemini Full Moon stretches your mental agility, emotional flexibility, and spiritual limits. How far are you willing to go? Read your sign's horoscope now...
Aries Horoscope (March 21 - April 19)
The temptation to share every bright idea is strong, but sometimes a plan takes on a life of its own once it is under the light of public scrutiny. You can talk all you want but most folks are going to tune out and just nod their heads while you run your mouth. Your enthusiasm is palpable, but your thoughts are scattered all over the map near this Full Moon in Gemini. Consider a solo expedition or choose someone who is truly invested in your dreams to accompany you on a spiritual adventure. A deep well of compassion and a powerful connection to the divine are two of the many treasures you might discover if you are willing to explore the trails of your own imagination.
Taurus Horoscope (April 20 - May 20)
The noise of the holiday season is amplified by everyone's expectations, and clear communication is essential if you want to maintain relationship harmony around this Full Moon. You may think an epic shopping spree is mandatory now, so you can shower gifts on your loved ones and impress them with your generosity. Or you might get lost in a fairytale left over from your childhood as you follow the crowd in pursuit of your happily-ever-after. There's nothing wrong with wandering around in a dream as long as you remember what is real and what is fantasy when you wake up.
Gemini Horoscope (May 21 - June 20)
A familiar call for freedom rings in your head as you find yourself overbooked, overcommitted, and overwhelmed at this Full Moon in your sign. Old patterns of filling every inch of your mental bandwidth with a thousand distractions are keeping you from working more efficiently, both in your personal and professional spheres. Your charm is tough to resist as you flirt without even trying, but re-evaluating your priorities may mean you don't lead anyone on in the process. Objectivity is your saving grace, but it's nowhere to be found now as you wear your dreams on your sleeve for the whole world to see. Follow your heart but don't leave home without your common sense.
Cancer Horoscope (June 21 - July 22)
Your dreams might be keeping you up at night as you replay your joys and your regrets, leaving you slightly sleep-deprived and extremely sensitive during the waking hours. Paranoia could creep in as you rush around trying to catch up on a long list of chores, and you may start to fear that people are hiding critical facts from you. The truth is you are the one with the big secrets now, and you are not obligated to share them until you are ready. Translate the symbols of your imagination into your next creative masterpiece.
Leo Horoscope (July 23 - Aug. 22)
Your charisma lights up the stage, and others are drawn to you like moths to a flame. You cherish your position in the community and rarely disappoint your adoring fans. Naturally, you aim to please your audience, but you are afraid of missing your private meeting with your muse if you get lost in the crowd now. Fulfilling the expectations of others can be a seductive trap, limiting you from releasing your true potential. Create for the sole sake of passionate self-expression and set your soul on fire.
Virgo Horoscope (Aug. 23 - Sept. 22)
You wish you could merge your personal and your professional worlds for the sake of productivity, but not everyone is on the same page near this Full Moon in Gemini. A fog of confusion permeates the atmosphere and you may find it easier to talk to strangers than friends. An overall lack of clarity regarding your most important relationships might even have you wondering who you can trust. Turn off the endless mental chatter and reassess your priorities with an objective eye. Expecting perfection sends you down a path of disillusion and disappointment. Find your center and your faith in people will return.
Libra Horoscope (Sept. 23 - Oct. 22)
The urge to escape the holiday hustle is irresistible and you're packing your bags before you even know your destination. It's easy as pie to convince yourself that you deserve a break, even if it's just a working vacation or a change of scenery. Truth be told your daily routine is stale and overdue for a healthy rearrangement. Stretching your mental and physical boundaries empowers you to thrive in your immediate environment and act as a positive inspiration for everyone around you. Spell out your intentions to keep confusion to a minimum, but don't expect immediate validation for your life choices. All you can really do is listen to your heart.
Scorpio Horoscope (Oct. 23 - Nov. 21)
The safe thing to do is to smile and keep moving now; but real growth is only possible if you shut out the external interference and push past the internal remnants of resistance regarding the topic of intimacy. Flirting is more fun than fighting, and skating around a relationship conversation might be your first preference near this Full Moon. However, sinking into your vulnerability invites more meaningful interactions where hearts and minds connect on a new playing field. Your imagination is operating on overdrive, tricking you into thinking your dreams are real. Interdimensional dancing isn't for everyone, but you are in your element as you search for your next source of inspiration. A word of warning: If you start to believe you are a character in your creation, you may need to call for assistance.
Sagittarius Horoscope (Nov. 22 - Dec. 21)
The dichotomy of independence versus relationship is palpable as you struggle to find the right balance between freedom and commitment. Mixing and mingling is impossible to avoid near this holiday Full Moon, and why would you evade the spotlight when you are loved everywhere you go? But all the superficial chit-chat and flirtatious banter can leave you feeling bittersweet when you are secretly craving a deeper connection with yourself. Give the gift of self-love by taking the time to figure out what your heart truly wants. Honoring your needs encourages others to do the same. The roots of compassion start within.
Capricorn Horoscope (Dec. 22 - Jan. 19)
You may go through the motions of performing your regular routine, but it is clearly obvious that your mind is not on the work at hand. Your family and friends do their best to keep you grounded, but your brain continues to run a full-length film of epic proportions in your imagination. Mistakes and misunderstandings happen when your head isn't in the game. The truth is, the more you try to drown out this cosmic distraction with pragmatism and chores, the louder and bigger it gets. Stop pretending everything is normal and your perspective will start to take a philosophical turn. Meandering down a spiritual path allows you to discover treasure beyond your wildest dreams.
Aquarius Horoscope (Jan. 20 - Feb. 18)
Opportunities are knocking on every door around this Full Moon, but you can only answer so many at once. Knowing when to say no is critical now, but knowing when to say yes is even more important when it comes to love affairs or creative pursuits. Romance is on your mind, but commitment isn't; be clear about your intentions right from the start. A foot-loose and fancy-free lifestyle might be loads of fun now, but it can also keep your heart from getting invested. Overindulgence and overexpansion may send you wandering down the wrong path if you're unwilling to follow your moral compass. Choose quality over quantity and meaningful over more.
Pisces Horoscope (Feb. 19 - March 20)
You are experiencing the cosmic-twin energy in a very personal way as one half of you wants to remain curled up at home watching your fantasies, while the other half of you thrives on being needed at work or in the community. An irrepressible yearning for variety may clash with previously scheduled commitments, but fun can be found in cleverly rearranging your plans to accommodate fickle tastes and inquiring minds. You delight in making others smile, but in the process of spreading glee your feelings might get misplaced in all the glitter and lights. Give yourself the gift of solitude when your heart requests it.
Content written by Morgan Friday
Start your Celtic Cross Tarot Reading now for more insight into your present life and future »