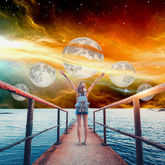 Lunar Eclipse in Leo Horoscopes: Less Drama, More Love
See what February's Blue Moon Lunar Eclipse in Leo means for your sign

The Leo Full Moon Eclipse on January 31, 2018, basks in the extra worldly attention it receives by being a Blue Moon -- which is the astronomical phenomenon of a second Full Moon in a calendar month. But more importantly from an astrological perspective, the Leo Lunar Eclipse is the sequel to the August 2017 Leo Solar Eclipse. This is a cosmic reverberation that will powerfully impact the global community, leaving individuals to sort out where they fit in the bigger picture. Eclipses shake, rattle, and roll. Leo Full Moons magnify feelings and stir up mischief. Combine these cosmic energies, and you're ready to roar.
The polarizing light of this Leo Lunar Eclipse intensifies your urge for self-expression, creative or otherwise. The subtle vibe of the eclipse inspires a more self-reflective introversion. You jump up and down, wanting the spotlight and then suddenly you wonder why everyone is looking at you, expecting you to perform. Relinquish the need to be admired and adored by your audience so that you can focus on giving others the love and appreciation they deserve. Exercise your heart muscle as often as possible. And while you're at it, leave the drama at the door and your past in the past.
The mix of the fiery Leo Moon and airy Aquarius Sun reminds you to put the unity in community. Get out of your own little bubble and see things from a global perspective. Acquiescing a little individuality for a noble cause might be necessary in these tumultuous times, and using your talents to help make this world a better place boosts your star power. Thinking for yourself enables you to access brilliant solutions to future problems. Practicing the art of detachment allows your spirit of generosity to shine.
Make sense of the changes this Lunar Eclipse can bring with insight from a Mandala Tarot Reading for Change.
This dramatic Leo Lunar Eclipse demands that you let go of something from your past, so you can step boldly into your future. Be proactive and consciously choose what needs pruning from your life before the universe does it for you. Read your horoscope for your Sun sign as well as your Moon sign below for an added layer of insight (if you don't know your Moon sign, your free Cosmic Profile here will tell you!).
Aries Horoscope (March 21 - April 19)
Creative sparks are flying, and you need to channel your passion into your art now or you might self-combust. Your drive is strong and your intentions are noble, especially if you can drop your pride at the door and consider the bigger picture. Utilizing your natural talent and charisma for the sake of a worthy cause is a win-win proposition during this flamboyant Leo Lunar Eclipse. Your emotional satisfaction grows in proportion to the value of your contribution to the community. Plugging into the needs of your village instead of chasing personal fame or fortune gives you a chance to express your heart.
Taurus Horoscope (April 20 - May 20)
Drama is brewing in your personal life during this Leo Lunar Eclipse, but work is calling and your unique talents are required to tackle an unexpected project. You may feel like nursing your pride and sitting this one out, but you could miss an amazing opportunity to make a difference on the job. Draw from a deep well of courage and shake off any self-doubt. Assume the leadership role and dazzle everyone with your brilliant ideas. Keeping one foot in the future and one foot in the present enables you to envision the steps needed to reach your goals.
Gemini Horoscope (May 21 - June 20)
Your curious mind is like a squirrel always gathering more nuts, never satisfied with sitting still for too long when there may be more nuggets of information just waiting to be uncovered. But during this Leo Lunar Eclipse you might want to stop your search mission long enough to synthesize all the facts into a tangible plan of action. Release the need to know everything so your clever brain can focus on innovation and originality. Share your brilliant insights with a group of like-minded folks to magnify the impact of your ideas. Creating the future of your dreams calls for heroic measures.
Cancer Horoscope (June 21 - July 22)
You can't help but be moody during a Leo Lunar Eclipse, but the less you allow your fluctuating feelings to dictate your interactions with others, the better. Letting go of your security blanket to embrace the unknown requires a special brand of courage. Show up and demonstrate your commitment to a relationship or a passion project dear to your heart, but keep in mind that trust takes time to cultivate. Don't be afraid to talk about the big picture as you determine what each person can contribute to the cause. Remain as open to receiving love as you are to giving it.
Leo Horoscope (July 23 - Aug. 22)
Taking things too personally is completely understandable during this proud Leo Lunar Eclipse, and the urge to dance in the spotlight is a natural expression of your spirit. But if you can change your internal filter from selfie mode to a panoramic perspective, you might realize how much your current happiness depends on the happiness of others. Letting go of your need to be right frees you to focus on cultivating healthier relationships. Allowing a partner or friend to step into the starring role gives you a deep sense of gratification, and your support means the world to those who think the world of you.
Virgo Horoscope (Aug. 23 - Sept. 22)
Manifesting your dreams is as simple as putting your imagination to work. There is no time to waste wandering around in your fantasies when your pragmatic ingenuity is in high demand in the mundane world. Finding unorthodox solutions to the same old problems is likely during this Leo Lunar Eclipse, so keep your intuition channels open for incoming epiphanies. Recognize your need to control every detail and then consciously choose to let go. Shake up anything that feels stale in your daily routine with an unconventional twist. Free your mind and anything is possible.
Libra Horoscope (Sept. 23 - Oct. 22)
Getting lost in the crowd isn't in your best interest during this Leo Lunar Eclipse, especially if your creative muscles need stretching. Relinquish your habit of pleasing others at the cost of your individuality. Be radical and rebellious in your self-expression, and let your freak flag fly. Experimenting with unconventional sources for your inspiration boosts your confidence and feeds your ingenuity. Reconsider if your insatiable desire for harmony keeps you from rocking the boat. Following the whims of your heart doesn't preclude you from being an integral part of the community. Your authenticity shines like a beacon in the dark.
Scorpio Horoscope (Oct. 23 - Nov. 21)
Change is in the air and you have two choices during this Leo Lunar Eclipse: waste your energy by resisting the inevitable or spend your time figuring out how to make this directional shift play to your advantage. Perhaps you have outgrown your current job or find yourself yearning for a profession that honors your idealistic convictions. Your passionate nature does not suffer mediocrity or boredom for very long. Mapping out a plan for your future includes equal parts of quiet self-reflection and loud brainstorming. Utilize your impressive talents to make a positive impact in your community. Transformation is your game.
Sagittarius Horoscope (Nov. 22 - Dec. 21)
Your desire to acquire knowledge intensifies during this Leo Lunar Eclipse, as does your craving for epic adventures. But there is serious mental exploration to do before you can launch yourself off the nearest cliff. Let go of old assumptions and previous justifications if you really want to discover the unvarnished truth. Communicate your concerns with those you trust and listen closely to their advice. You might find that your aspirations are more closely intertwined with others than you once thought. Your endless enthusiasm is contagious, so pass it on.
Capricorn Horoscope (Dec. 22 - Jan. 19)
Your money is on your mind as you re-evaluate who you are willing to trust with your resources. But the truth is it might be your own self-worth that you are wrestling with during this Leo Lunar Eclipse. Although you rationally understand that your true value is not tied up in your material possessions, it is tough to disconnect worldly success from personal fulfillment. Relinquishing your attachment to the tangible gives you the chance to treasure the priceless intangibles more. Be outrageously generous with your love and compassion, but make sure to save some for yourself. Make your life rich in all the ways that count.
Aquarius Horoscope (Jan. 20 - Feb. 18)
Separating your emotions from illusions is no easy feat during this theatrical Leo Lunar Eclipse. Untangling your needs from the desires of your partner is the first step to sorting out what you want from a serious relationship. Putting someone else first demonstrates your commitment, but might not honor the wishes of your heart. Acknowledging that your feelings matter inspires you to re-examine your priorities and adjust your trajectory. Letting go of past hurts or self-sabotaging patterns allows you to make room for love and laughter. Creating your future starts by believing you can.
Pisces Horoscope (Feb. 19 - March 20)
All your best ideas originate from the infinite halls of your imagination. Interweaving various elements of your spiritual practice into your daily routine is likely to be successful during this creative Leo Lunar Eclipse. But if you truly want to perform random acts of service then you must let go of your wish to be acknowledged and appreciated. Anonymously giving of your time and energy might mean little recognition but the warm glow in your heart. Your dreams offer you a magnificent glimpse of your future, but you will need to fully trust your intuition to build the world you see in your mind.
Content written by Morgan Friday
Start your Mandala Tarot Reading for Change now for more guidance on the changes you're facing at this Lunar Eclipse »