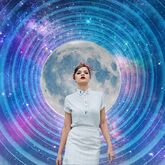 Full Moon in Sagittarius Horoscopes: Radical Revelations
Read your sign's horoscope for the Full Moon in Sagittarius

On May 29, 2018, a Full Moon will rise in expansive Sagittarius. Stubborn beliefs will give way to liberating insights. Ways to share expertise will appear out of thin air. Best of all, knowledge that was hidden will come to light. Combining the enlightened energy of the Archer with the illuminating power of the Full Moon will result in some radical revelations.
This celestial event packs added power because dynamic Mars makes a sextile to the Full Moon. This will inspire us to act on plans, accept challenges, and be courageous. Some people will enter contests, others will go on trips, and still others may go back to school. When the Full Moon is in Sagittarius, it's time to go big or go home.
Read your sign's Full Moon in Sagittarius horoscope below to learn more...
Find out how this Full Moon can impact every area of your life and future »
Aries Horoscope (March 21 - April 19)
A search for meaning could be successful during this Full Moon. Whether you're trying to understand the lessons within an illness or your career or a spiritual practice is immaterial. The important thing is that you will get an answer to a question that has been weighing on your heart. This breakthrough could occur while you're walking your dog, playing a sport, or meditating.
Joining a group is another possibility. Being able to discuss a subject that is close to your heart will be liberating. It doesn't matter whether you're inspired to attend a 12-step meeting, an exercise class, or political organization. The important thing is to find your tribe and thrive with it.
Get personal advice for your positive breakthrough now »
Taurus Horoscope (April 20 - May 20)
The Sagittarius Full Moon may give you a chance to face your fears. If you've been avoiding a situation, take a deep breath and face it. Give yourself permission to feel anxious and awkward. By standing firm, your discomfort will give way to peace. Soon, you'll be delighted to realize that you've broken free from a rigid system. The rewards could include anything from recovering from an illness to overcoming shame to enjoying a new level of intimacy.
An exciting career opportunity might also be on the way. Someone who admires your organizational skills will ask you to work for a highly creative company. Your gift for bringing order to chaotic surroundings will be greatly appreciated.
Get personal advice to face your fears and work toward real healing »
Gemini Horoscope (May 21 - June 20)
This Full Moon could enhance a close, loving relationship. Instead of staying focused on your own needs, look for ways to support your best friend or romantic partner: Arrange an outing tailored to their favorite hobby; book a vacation that appeals to their interests; ask them questions about their area of expertise. By celebrating their knowledge and experience, you'll learn something valuable about yourself, since all relationships are mirrors.
An unusual trip could be on the horizon for you. Visiting an unfamiliar country will be revelatory. There's nothing like being in strange surroundings to uncover hidden talents and surprising attitudes. Let a local guide show you the best places to eat, shop, and visit.
Receive more personal guidance for your relationship and love life at this Full Moon »
Cancer Horoscope (June 21 - July 22)
You can find a way to fix a persistent health problem near this Full Moon. Give yourself an opportunity to be still and listen to your body. Instead of railing against it for not performing the way you want, talk to your system in a loving, compassionate way. For instance, if you have pain in your hips, thank them for supporting you and ask what you can do to nourish and support them. An answer may occur that brings immediate relief.
A passionate relationship can also reveal things to you. Open your heart to someone who has proven their love and loyalty. Listen carefully to their advice. Even a casual remark from your partner can guide you to a beneficial change.
Get the help you need to heal your body and soul now »
Leo Horoscope (July 23 - Aug. 22)
Discovering a way to do more things that you love could occur during this Full Moon. Whether this means taking an undemanding job, moving to another part of the world, or rearranging your schedule is immaterial. The important thing is to pour as much energy as possible into rewarding activities and relationships. Instead of indulging in guilt trips about not doing enough, embrace every opportunity to enjoy the best in life.
An intriguing romantic or business relationship could make its way into your world. You'll have to pursue the object of your desire, since this person is a bit aloof. After winning their heart, you'll be able to build an unconventional family or business together.
Get personal guidance on your quest for true love here »
Virgo Horoscope (Aug. 23 - Sept. 22)
Finding ways to feel good about yourself could be this Full Moon's gift to you. Vow to stop criticizing yourself for the next two weeks and see what happens. Make it your mission to replace self-defeating thoughts with praise. Compliment your appearance, progress, and creativity. Give yourself regular rewards. Delegate annoying jobs to others and enjoy pleasure outings instead. This shift will attract love, luck, money, and opportunity in droves. Prepare to learn the power of self-love.
A rewarding job could also be within your grasp, provided you're willing to pursue it. Filling out an application, attending an interview or going on an audition can result in a position that pays well and engages your intellect. Go for it!
Heal your soul and get the personal help you need at this Full Moon »
Libra Horoscope (Sept. 23 - Oct. 22)
Discovering a new way to communicate will transform your relationship with every area of life. Whether you take a class in computer coding, record a podcast, or launch a blog, this process will be highly stimulating. This is an especially good time to master a foreign language or musical instrument. Don't worry if you've had trouble with lessons in the past. You're now capable of choosing a program and teacher who resonates with your learning style.
Pursuing a relationship or activity that fills you with excitement will be revelatory. You'll uncover some hidden talents after asserting your desires and going after what you want. Let the Full Moon allow you to stop being polite and start getting real.
See how the decisions you make now will impact your immediate future »
Scorpio Horoscope (Oct. 23 - Nov. 21)
A moneymaking opportunity unlike any you've ever had before will fall into your lap. This is your big chance to change career fields, adopt another profession, or find a second source of income. There will be a sense of excitement and adventure with this endeavor. Prepare to study hard, as you will need to absorb a great deal of information at lightning speed. Fortunately, you've always been good at research and will easily absorb all the information this job entails.
This Full Moon could also have an impact on your home life. A sudden need to move could put you in a radically different neighborhood. Be open to relocating to an ultra-modern city, multicultural neighborhood, or artistic enclave.
Steer your career and finances in the right direction now with personal advice »
Sagittarius Horoscope (Nov. 22 - Dec. 21)
This Full Moon offers you an exceptional opportunity to express yourself. Showcasing your creative work, landing a role, or revealing a makeover are among the possibilities. You've been working undercover to transform yourself. Your diligence and determination have paid off, paving the way for a dramatic entrance. Seize every opportunity to command the spotlight. This fame and acclaim will be a welcome reward for your courageous decision.
A learning opportunity could fall into your lap. Be quick to sign up for an exciting course, as spaces will fill quickly. Your newfound knowledge will catapult you into a stimulating environment. Boring tasks will give way to exciting challenges. You might even go on an impromptu road trip.
Find out how this Full Moon can impact your immediate future »
Capricorn Horoscope (Dec. 22 - Jan. 19)
A spiritual breakthrough will occur quite suddenly. Be willing to explore ideas from different religions and philosophers. You'll hear a statement that profoundly changes your outlook. Fear could be replaced with anticipation; anger could be overcome by peace; resentment could be dissolved by love. Adopting a more open-minded approach to challenges will liberate you from a self-imposed prison.
A moneymaking opportunity is worth pursuing. If you have a chance to work for a visionary entrepreneur, grab it. Alternatively, you might decide to launch your own business, offering specialized products and services to a select group of people. Filling a niche will be a welcome challenge. You might even invent something for those who have special needs.
Get personal advice for your career and moneymaking endeavors now »
Aquarius Horoscope (Jan. 20 - Feb. 18)
You'll have a profound realization because of a group association. Working with people from all walks of life has been instructive. It has shown you that the expectations and desires you assumed during childhood are not necessarily the best goals for you to pursue. Be willing to build a new dream, one that captivates your imagination and makes your soul sing with happiness.
You also have a chance to adopt a different lifestyle. With the help of a friend, teammate, or colleague, you'll be introduced to a stimulating world. Be willing to hit the ground running. By allowing yourself to look awkward in the early stages, you'll quickly become integrated to this vibrant way of experiencing the world.
See how this Full Moon can profoundly affect every area of your life now »
Pisces Horoscope (Feb. 19 - March 20)
A career breakthrough is on its way. Have the courage to pursue your dream job. Landing a position involving publishing, travel, or education is a strong possibility. If you already love your job, you could be given a raise or promotion. Your talent for going with the flow and extending compassion to others has brought you to this point. Use these gifts as a springboard to even greater personal fulfillment.
Be open to taking up a spiritual practice. Balancing your work life with uplifting activities will create profound contentment. While you enjoy being celebrated for your professional achievements, you derive even more satisfaction from feeling aligned with your higher power.