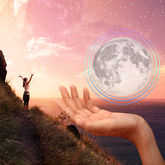 Full Moon in Virgo Horoscopes: You Can't Always Get What You Want
Read your sign's horoscope for the Full Moon in Virgo

The Full Moon rises in service-oriented Virgo on March 1, 2018. This is an ideal time to finish outstanding projects, complete health goals, and submit job applications. Because fantasy-oriented Neptune opposes this Full Moon, we are challenged to be realistic. Rather than strive for perfection, it's better to meet deadlines. When you can't get what you want, settle for what you need.
Dedicated Saturn does make a trine to this Full Moon, which indicates its effects will be long-lasting and beneficial. One completed assignment will lead to a regular series of projects. If you were successful in losing weight through a fitness program, the trend will continue. Any job that is accepted should be a source of steady income. This Full Moon builds solid foundations, not springboards.
Get more advice for this Full Moon by reading your sign's horoscope below...
Find out what this Full Moon is trying to show YOU with a Star of David Tarot Reading.
Aries Horoscope (March 21 - April 19)
You could clear the first hurdle of a health program this March. It may have taken more time and effort than you expected, but the results are undeniable. Give yourself credit for this accomplishment. Brushing it off will undermine the momentum you've built. If you've recently left a job, you'll breathe a sigh of relief. Instead of continuing to subject yourself to a toxic environment, you've paved the way to a happier, healthier way of life. Bravo!
Does life resemble the steady plod of a treadmill? Do yourself a favor and clear the clutter from your living and work spaces. Trash outmoded files, organize pertinent paperwork, and donate valuable items you don't use. Out with the old and in with the new!
Taurus Horoscope (April 20 - May 20)
A romantic relationship could reach an important turning point near this Full Moon. If you're single, you could get engaged or married. Have you been dating someone but the relationship has become stagnant? Then you'll be able to make a healthy break, provided you make your feelings crystal clear. Don't tell your soon-to-be-ex there is hope for the future; it's best to cut your losses and move on.
If you're in a relationship, you and your partner may decide to scale back a dream that has proven too lofty. For instance, instead of taking a road trip for the entire spring, you can opt to go to Paris for a couple of weeks. Rather than quit your day jobs to open your own business, you might launch a sideline on a part-time basis.
Gemini Horoscope (May 21 - June 20)
At long last, you're finally able to put a domestic matter to rest thanks to this Full Moon in your 4th House of Home and Family. It's possible you will buy or sell a piece of property. Although you may not get as good of a price or make as much of a profit as you thought, you will fare well with this deal. If you've been undergoing a home improvement project, the job will finally be finished, adding considerable value to your residence.
It's also possible that you've been trying to find accommodations for a relative who needs special help. Moving an elderly relative into assisted housing, sending a sibling to rehab, or finding additional schooling for a child are among the possibilities. Be flexible and optimistic.
Cancer Horoscope (June 21 - July 22)
Finishing a class or training session will cause you to breathe a sigh of relief. Although all the gaps in your knowledge will not be filled, you'll be in a much better position to do your job. Every time you are unsure of which direction to take, make a note. Being able to present a list of questions to your teacher or employer will make a good impression. Present yourself as a perpetual student.
If you've been waiting for news, this Full Moon will bring a definitive answer. You may not get an unqualified "yes," but you will be given a green light to proceed to the next step. With the help of a seasoned expert, you'll make impressive headway.
Leo Horoscope (July 23 - Aug. 22)
At long last, you'll receive payment from a job you performed some time ago. Being able to pay off a big debt will cause you to breathe a sigh of relief. There may not be funds left over for creature comforts, but don't complain. The greatest luxury is to be able to drift off to sleep without worrying about unpaid bills.
Not only will your financial situation improve, but this Full Moon will make you feel much better about life, too. That's because you'll finally be able to devote time to the people and activities you enjoy. Rather than having to spend every single minute at work, you'll be able to indulge your love of art, music, films, fashion, and romance.
Virgo Horoscope (Aug. 23 - Sept. 22)
This Full Moon is especially powerful for you. Instead of looking for ways to be of service to others, you'll start asserting your own needs. This will trigger some glorious shifts. Although you have no intention of abandoning people who rely on you, it will be easier to pamper and care for yourself.
Instead of staying up late to make gourmet lunches for the kids, you'll savor an all-night reading binge. Rather than vacuuming under the couch, you'll put the finishing touches on a writing project you started long ago. There's never been a better time to get a makeover. Instead of radically overhauling your image, opt for a look that emphasizes your best features.
Libra Horoscope (Sept. 23 - Oct. 22)
This Full Moon gives you a chance to concentrate on solitary activities. Even a social butterfly like you needs to rest your wings. Instead of filling the calendar with appointments, volunteer activities, and social networking, clear the decks. Lower the lights, turn off your cell phone, and turn your attention inward.
It's possible you will come to terms with your financial situation. If you're deep in debt, don't panic. Call a consumer rights organization that specializes in cases like yours. With its help, you can consolidate your bills and maybe even eliminate the interest rate. This one small step can allow you to buy a home or make extensive renovations to your existing domain.
Scorpio Horoscope (Oct. 23 - Nov. 21)
A group project will come to fruition near this Full Moon, but reviews may be mixed. Sensitive types may take offense at some harsh realities you've chosen to highlight. Socially conscious people will applaud your bravery. Addressing a taboo subject is never easy, but you and your team have done an admirable job. This project could lead to an exciting job offer, but don't count your chickens until they are hatched. Under this Full Moon, employment opportunities can vanish into thin air.
Although you may have to wait a bit longer to land your dream job, that won't break your stride. Seize this opportunity to update your resume, create a website that features your work samples, and practice your interviewing skills.
Sagittarius Horoscope (Nov. 22 - Dec. 21)
This Full Moon marks a career milestone for you. Don't be surprised if you're given a high-profile job or an impressive promotion. The powers-that-be are impressed with your multi-tasking abilities. With their support, you'll reach professional heights beyond your wildest dreams. Do you have your own business? You may decide to sell it or retire. This will give you more time to study, write, and travel.
Relatives might give you a chilly reception though. Several family members may be jealous of your success. Although you'd never lord these achievements over others, that doesn't comfort those who have failed to realize their potential. Be compassionate. Slowly but surely, they'll let down their defenses and offer their sincere congratulations.
Capricorn Horoscope (Dec. 22 - Jan. 19)
It's possible you'll return from a trip, publish a writing project, or graduate from a program of study near this Full Moon. You'll feel proud of your accomplishments, but friends may be indifferent to this victory. Try not to take their attitude personally. You've undergone tremendous changes. As a result, your nearest and dearest feel alienated. They can no longer relate to your new life.
Rather than apologizing for your success, bask in it. Give yourself a handsome reward for your hard work. A gorgeous status symbol will be a constant reminder of this breakthrough. The fun doesn't stop here. With this achievement under your belt, you'll pave the way for even bigger and better triumphs. Keep reaching for the stars.
Aquarius Horoscope (Jan. 20 - Feb. 18)
This Full Moon marks a powerful transformation for you. Breaking a bad habit, reaching a fitness goal, or overcoming an obsession are among the possibilities. This achievement may feel anticlimactic. Just because you've made impressive progress does not mean all your problems have been solved. Still, you must give credit where it is due. Now that you know what your willpower can accomplish, you can set even loftier goals.
One major benefit of your self-improvement program is greater confidence. Instead of looking to others for approval, you'll seek to suit yourself. Take this opportunity to launch a bold creative project that is bound to cause a commotion. You're always happiest when challenging the status quo.
Pisces Horoscope (Feb. 19 - March 20)
You're about to discover the miracle of unconditional love. This Full Moon will shine light on a promising relationship. You tend to be hypercritical of your romantic partner. Be more mindful of how you speak to your other half. Every time you are tempted to tease or correct your significant other, stop. Offer praise instead of criticism. Give thanks for all thoughtful gestures they make on your behalf. This gentle approach will make your bond stronger than ever.
Are you single? Instead of looking for someone to fill an emotional void, develop a crush on yourself. Recite positive affirmations in the mirror. Give yourself rewards for hard work. Above all, be willing to laugh at your shortcomings.
This Full Moon has a message for you! Reveal what it is with a Star of David Tarot Reading now.