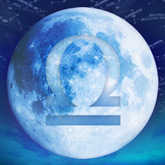 Lunar Eclipse in Libra Horoscopes
March's Full Moon is a lesson in letting go

The diplomatic Libra Full Moon on March 23, 2016, is a Lunar Eclipse that does battle with the self-centered Aries Sun, confusing our choices. We want to give peace a chance, but tension permeates the atmosphere instead. We may still be wrestling with the discovery process that began with the Solar Eclipse on March 8; still unpeeling the layers of the ego to get to the truth at the center.
Watch this video about the Lunar Eclipse:
It's time to leave something behind, and this Libra Lunar Eclipse gives us the objectivity to make wise decisions. However, knowing what to eliminate is complicated because we can clearly see both sides of an issue. Jupiter says more and Saturn says less, and we're caught between conflicting voices of optimism and pessimism as these giants square off during this eclipse. Thankfully, the eclipse is also aligned with interactive Mercury, raising the importance of communication in any solution. But there is no way to escape by talking our way around the eye of the storm. The way out is the way through.
Let go of past pains and move forward today with answers from a Self-Healing Tarot reading.
Learn more about the impact of this Full Moon now with your sign's Full Moon Horoscope below...
Aries Horoscope (March 21 - April 19)
Describing what you see is challenging while communicator Mercury is swallowed by the Libra Lunar Eclipse in your 7th House of Others. Your confidence is high, but others may not be able to meet you halfway on your plan if you come off too arrogantly. Although you might prefer everyone to follow your agenda, it's not wise to push to get your way. Don't fret if your message isn't getting across. Instead, take a deep breath, gather your thoughts, and then try again once the energy settles down. Time is what prevents everything from happening at once.
Taurus Horoscope (April 20 - May 20)
Making progress on your long–term goals is a walk in the park when all the details fall into place. Nevertheless, something still seems a bit off as the Libra Full Moon Eclipse rattles your 6th House of Minutiae. Although you understand that it may be prudent to keep your discomfort quiet, you also worry that the opportunity for improvement could fade if you don't speak up right away. Nevertheless, it's smarter to smile and save your words for another day when your audience will be more receptive to your feedback.
Gemini Horoscope (May 21 - June 20)
You're on your best behavior because you know that your unrestrained shenanigans could interfere with opportunities for pleasure. Nevertheless, the Libra Full Moon Eclipse polarizes your 5th House of Play, encouraging you to get into mischief anyhow. You might believe your friends will cut you some slack, but tiptoeing around the real issues will only annoy them when they see through your charming antics. Instead of simply seeking a good time, balance your lighthearted spirit with a serious approach to your relationships.
Cancer Horoscope (June 21 - July 22)
You might choose to distract your attention from a vulnerable spot by starting a new project around the house. In fact, you could be so effective with this evasive tactic that you alleviate the tension for a while. The strategic Libra Lunar Eclipse occurring in your 4th House of Home and Family triggers familiar issues regarding childhood insecurities. But you can't escape completely; the sooner you face your emotions, the sooner everyone will begin to feel better. True healing takes courage and compassion.
Leo Horoscope (July 23 - Aug. 22)
You're motivated by your personal need to know everyone's business while the Libra Lunar Eclipse shakes up your 3rd House of Information. Simultaneously, you may become so preoccupied with an impractical idea that it can turn into an obsession. However, your desire for a bit of adventure leaves you little time to get involved with another person's drama. Distractions are not your friend; concentrate on the most immediate situations and then apply what you learn toward reaching your goals. There are no shortcuts to success.
Virgo Horoscope (Aug. 23 - Sept. 22)
Balancing your personal desires with your available funds could lead you to the conclusion that you're not in any position to buy something you don't really need. Money issues are emphasized while the Libra Full Moon Eclipse activates your 2nd House of Finances. You might realize that your old values are out of sync with your current aspirations. There's no hurry, so step slowly into your future. If you move at your own pace, you can reestablish fiscal integrity sooner than you think.
Libra Horoscope (Sept. 23 - Oct. 22)
Maintaining a peaceful relationship life is highly unlikely while the pleasure-seeking Libra Full Moon encounters several combative planets in the sign of Aries. The emotional drama might be more meaningful if there was someone special with whom you could share your experience. However, you may not have the patience to cultivate open lines of communication. Don't lose hope when it comes to love; you could be in for a sweet surprise when you least expect it.
Scorpio Horoscope (Oct. 23 - Nov. 21)
You might be quite certain about the intimacy you're currently seeking, but an enticing opportunity could disappear upon closer analysis. The imbalanced Libra Full Moon Eclipse is like an emotional time bomb in your 12th House of Secrets, preventing you from reaching satisfaction. Don't attempt to resolve any decisions too quickly. If you take the time to talk about what you want, the right person may be eager to follow your lead. Author Brene Brown wrote, "Courage starts with showing up and letting ourselves be seen."
Sagittarius Horoscope (Nov. 22 - Dec. 21)
You could place such inflated expectations on your friends that you just assume they'll come through for you, although they might not actually meet your idealistic standards. Meanwhile, you're distracted with interpersonal politics while the Libra Full Moon Eclipse in your 11th House of Groups opposes the Sun and Mercury in your 5th House of Creativity. Concentrate your intentions on expressing yourself instead of worrying about others. Satisfaction is more readily achieved when you actively pursue your own self-interests.
Capricorn Horoscope (Dec. 22 - Jan. 19)
You know exactly what you must do to come through for the people who depend on you. The Libra Full Moon Eclipse accentuates your 10th House of Public Status, enabling you to focus your mind like a laser light on whatever must be coerced into place to reach your professional objectives. Nevertheless, tread lightly; if you are overconfident of your position, your current self-promotional scheme could backfire and leave you with a mess on your hands. Your best contribution is your honest commitment to be as present as possible when interacting with others.
Aquarius Horoscope (Jan. 20 - Feb. 18)
You enjoy visualizing how you will live in years ahead, but your daydreaming could be rather distracting to everyone else. However, the energy-balancing Libra Lunar Eclipse falls in your 9th House of Adventure, encouraging you to keep a foot in the future while stabilizing the other one in the here and now. Widening your perspective enables you to maintain your unflagging vision for a better tomorrow while avoiding unrealistic idealism in the process.
Pisces Horoscope (Feb. 19 - March 20)
Your most pressing dilemma is how to strike a workable balance between simplicity and complexity. You desire all the creature comforts of being in a relationship, but you might not be eager to pay the emotional price while the Libra Lunar Eclipse shakes up your 8th House of Intimacy. Consider the consequences of unrestrained ambitions to avoid complications later on. Let your love light shine brightly by setting aside personal desires in the name of harmony.
Start a Self-Healing Tarot reading now and begin your process of letting go »