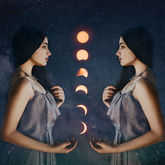 Lunar Eclipse in Pisces Horoscopes
Daily routines clash with big visions at September's Full Moon

The dreamy Full Moon in Pisces on September 16, 2016, is a Lunar Eclipse, requiring us to apply the Virgo Sun's practicality to impractical ideas. The Earth's shadow darkens the Moon at this time, reminding us to stop fantasizing and select one single project on which to focus. The polarity between the detail-oriented Virgo Sun and the boundless wanderings of the Pisces Moon increases the complexity of making decisions.
We are driven to take immediate action -- since this Full Moon Eclipse squares heroic Mars -- and we cannot idly wait for the tension to resolve on its own. Something from our past may be impeding our progress, and we must dig into our memories to discover the source so we can let it go and move on. But assertive Mars in visionary Sagittarius is the planetary key to any lasting resolution. Fortunately, the impulsive ingenuity of a Mars-Uranus trin ealso comes to our aid as we face the challenge of balancing the consistent rhythm of daily routine with the ephemeral potential our hopes and dreams.
Keep reading to discover how this Lunar Eclipse can impact YOUR zodiac sign.
Find guidance for this potent event with a Horoscope Tarot reading, which gives you Tarot card advice for each of your Astrology houses!
Aries Horoscope (March 21 - April 19)
You're stifled by the familiar pace of your life and want to shake it up a bit. However, you must be careful what you wish because the Pisces Full Moon Eclipse falls in your 12th House of Destiny and could bring more upheaval than you bargained for. It's in your best interest to maintain your daily routine without abandoning your regular schedule. React carefully to boredom, especially if you've been thinking about quitting your job. Instead of running away, find ways to integrate the sudden metaphysical insights you receive to create the excitement you crave.
Taurus Horoscope (April 20 - May 20)
Friends and colleagues may show disregard for your needs and alter the rules of the game. Just as you think everyone is on the same page, you suddenly realize that you're not even reading the same book as the Pisces Lunar Eclipse stirs up trouble in your 11th House of Groups. Cooperation with others is difficult; nevertheless, you could be in for a pleasant surprise if someone new enters your life, bringing fun back to the workplace. Keep an open mind around people who operate very differently than you; if your basic goals are aligned, there is room for compromise.
Gemini Horoscope May 21 - June 20)
You're itching for a more challenging job and eager to move into new territory. Sudden shifts in management or even a company reorganization can alter the direction of your professional life when the Pisces Full Moon Eclipse sends subtle yet powerful shockwaves through your 10th House of Career. Ironically, you don't mind the uncertainty because you're confident you'll be able to capitalize on any potential opportunity. Your mental agility empowers you to dance circles around everyone else while they're wondering what to do. A moment of hesitation may cost a lifetime of regrets.
Cancer Horoscope (June 21 - July 22)
You might be packing your bags to go on an unexpected trip as the Pisces Lunar Eclipse rattles your 9th House of Long Journeys. However, watching a travelogue or reading a great book might be enough to catalyze a major change in your life. Thankfully, you can experience faraway lands without leaving the comfort of home -- an important consideration for you security-conscience Crabs. Mental attractions are just as important as physical ones when it comes to expanding your horizons. Dreaming the improbable dream is a crucial step to achieving happiness.
Leo Horoscope (July 23 - Aug. 22)
Intense emotions are agitated as the evocative Pisces Full Moon Eclipse ratchets up the energy in your 8th House of Deep Feelings. Your desires may be ready to boil over as you obsess about a power struggle in a relationship. The fact is you're running out of patience and you're probably willing to rock the boat in order to gain some financial independence. However, you could have second thoughts, prompting you to become more careful about executing your plans. Ben Franklin wrote, "Distrust and caution are the parents of security."
Virgo Horoscope (Aug. 23 - Sept. 22)
Freedom is a theme for you, although it may feel more like uncertainty. The Pisces Full Moon Eclipse polarizes your 7th House of Partnerships, bringing major shifts in the near future. A current relationship might be destabilized by someone who doesn't want to play by your rules or by your own search for something new. Relax and soak in this new world of possibilities, so you can enjoy the ride without worrying too much about your destination.
Libra Horoscope (Sept. 23 - Oct. 22)
Being awakened by the light of awareness isn't always an easy path, and sometimes staying unconscious is less complicated. However, the Pisces Lunar Eclipse rattles your 6th House of Routine, releasing suppressed tensions with sudden force. You may be emotionally distraught if you have been hiding your true feelings. But instead of impulsively running off to follow your own dream, turn this into a time of quiet introspection and spiritual contemplation. What you learn might be a temporary transition, rather than a permanent solution.
Scorpio Horoscope (Oct. 23 - Nov. 21)
Moments of extreme confidence could have you strutting about on stage, dazzling others with your wild imagination and playful wit. The Pisces Full Moon Eclipse in your 5th House of Romance can ignite your heart in a flash as someone you barely know becomes your obsession, or the fire for a current flame is rekindled. However, you might also overreact to all the sudden attention by pulling back and shutting people out in your need for privacy. In the words of Thoreau, "It is a characteristic of wisdom not to do desperate things."
Sagittarius Horoscope (Nov. 22 - Dec. 21)
If a cloud of self-doubt based on past failures obscures the Sun, just let it drift on by. The Pisces Lunar Eclipse uncovers buried secrets hiding in your 4th House of Foundations. Although you might experience an emotional earthquake on the inside, you're able to appear coolly confident on the outside. Your capacity to respond to crises is excellent, since you instinctively understand where your attention is needed, rather than on being distracted by demanding but less important issues. You always have time for the things you put first.
Capricorn Horoscope (Dec. 22 - Jan. 19)
You may feel somewhat overwhelmed by how much information is streaming into your awareness, both from conventional learning and directly from the wisdom of your intuition. The escapist Pisces Full Moon Eclipse intensifies your 3rd House of Distractions, bringing an unpredictable quality to your world. However, this cosmic turbulence can attract a lucky coincidence, even as you continue to worry about your lack of stability. Your best strategy is to relinquish control -- not an easy thing for you to do -- and just let yourself be happy.
Aquarius Horoscope (Jan. 20 - Feb. 18)
The inherent instability of the otherworldly Pisces Full Moon Eclipse lands in your 2nd House of Values, dropping you into a world of cloudy dreams and fuzzy reality. However, you like to keep it real, even if trust doesn't come easily. And although you are quite resourceful by nature, you might act impetuously and thereby jeopardize the invincibility of your self-esteem or even your bank account. Faith can move mountains but too much doubt creates them.
Pisces Horoscope (Feb. 19 - March 20)
Your relationship life is on shaky ground while the Pisces Lunar Eclipse floods your 1st House of Self and your 7th House of Others. Whether this eclipse in your sign creates an immediate energetic shift or not, there will likely be rumblings below the surface that alter the way you connect with people. Boredom sets in quickly, even if the situation was once cozy and comfortable. You can best handle any experience that rattles you by graciously adapting to the changing circumstances. You are intuitively heading in the right direction, even if you don't yet know your destination.