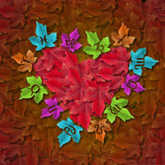 Fall 2012 Love Horoscopes
Fall into a new season of romance

Fall can be the right time for love, but this autumn we'll have a lot of tension to work out first. Although the square between Uranus and Pluto, that lasts until 2015, continues to overshadow our worldview, we can also expect some good things to happen. With Jupiter going retrograde, exciting eclipses in sexy Scorpio and flirty Gemini, plus Neptune coming out of its retrograde, there will be lots to inspire us to delve into the dreamland of love.
Get personal love advice with a Love Celtic Cross Tarot reading and ook up your zodiac sign below to see where you should be looking for love ... or, how to keep the one you've got burning as brightly as that cozy, cuddly fire that'll help you through some long, cold nights.
Aries (March 21 - April 19)
Fall 2012 starts with the Sun firing up your 7th House of Partnership, before moving on to your 8th House of Intimacy on October 22. Loving Venus and communication planet Mercury are also paying visits to Libra and your 7th house in September and October. The New Moon, also occurring in Libra on October 15, would be an excellent time to make a decision about a relationship. If you're already taken, vow to spend more time being there for and with your partner. If you're looking for love, you could decide to take a new partnership to the next level this fall, or walk away and start all over again. Stay focused on your personal happiness. With Mars in Capricorn from mid-November on, it will be easy to get distracted by your workload, so don't let extra career burdens interfere with love and contentment.
Taurus (April 20 - May 20)
Autumn, to you, can be like foreplay, Taurus. But while you enjoy the excitement of fall and the change in your routine, it could take a while to build your way toward a more romantic mood in fall 2012. Saturn's arrival in your 7th House of Relationships on October 5 emphasizes your reluctance to make commitments, or to go out of your way to make a long-standing love all that it could be. Chilly feelings might even out in mid-November, though, when a Solar Eclipse in your 7th house calls your attention to how much of your overall happiness is based on emotional fulfillment. No one is really an island, and you'll likely feel more in the mood for tables for two and passionate nights after Venus moves into Scorpio on November 21.
Gemini (May 21 - June 20)
You might not understand why people accuse you of being "of two minds," until you stand back and observe yourself this fall. It's not that you don't delight in the idea of being in love, you just don't want anyone to have the power to tie you down. Even if you're in a years-long relationship, Jupiter's retrograde in your sign might get you thinking about how you can reset some parameters and loosen the leash your lover might have on you. If you're single, Mercury's retrograde through your 7th House of Relationships will keep you playing footsie while you deliberate the pros and cons of being in a relationship. In the end, the Lunar Eclipse on November 28 could force you to make a big decision.
Cancer (June 21 - July 22)
Nesting is a favorite activity of yours, Cancer, and this fall is the perfect time for you to get into it. The Sun in Libra and your 4th House of Home life through October 22 will shine a light on the things that are missing from your domestic situation. You might want to change the way your home looks, or decide to add to it in other ways, possibly by moving in with a lover or changing your residence entirely. Later in the season, you may want to shed some of your affection on children or others in your family you love to dote on. Be careful you don't neglect your lover, though, or by mid-November, you'll have a grumpy partner on your hands. Mars' arrival in Capricorn and your 7th House of Relationships on October 16 will create increased demands for romantic attention.
Leo (July 23 - Aug. 22)
Fall is a fun time for you, and this year it's going to be more festive than ever. Even if you're in a relationship that dates back more years than you care to remember, a resurgence of that "just met" feeling could arise when Mars enters adventurous Sagittarius and your 5th House of Fun and Romance on October 6. Bonfires, boo-fests, and playful leaf-crunching hand in hand offer opportunities to connect with your fun-loving side. If you're looking for someone new to come into your life, you might meet a candidate in October. But don't make any rash decisions, either way, about relationships during November. Mercury's retrograde from November 6 - 26 will cloud your thoughts. But for now, relish the sweet feelings you get from just letting the good times roll.
Virgo (Aug. 23 - Sept. 22)
You're pretty clinical in your approach to love, but this fall things are different. Whether you're already in a relationship or you find yourself ready to try romance, the whole idea of being with someone may take on a quality of dreaminess, and, possibly, some unrealistic expectations. Neptune in your 7th House of Partnerships can obscure your view of reality, but this doesn't have to be a bad thing. It's quite possible that the illusion of flawlessness will last just long enough to allow you to fall head over heels for a less than "perfect" partner -- for the first time, or all over again. Neptune comes out of its retrograde period on November 11, which might bring back a strong emotion from this past April, and let you embrace true love.
Libra (Sept. 23 - Oct. 22)
As you begin the fall season this year, you'll probably feel more together than you have in years. Saturn moves out of your sign on October 5, leaving you with new certainty about what you want, especially when it comes to love and relationships. Your powers of attraction will be at a peak from October 28 to November 21, when your ruling planet and the planet of love, Venus, makes her way through your sign. Use this time to transform your outer appearance to match the confidence you feel on the inside. With zany planet Uranus in your 7th House of Partnerships all season, the people you become involved with, especially in love, may do some things that are out of the ordinary. Make your expectations clear, but be willing to let your hair down to have a wild and sexy time, too.
Scorpio (Oct. 23 - Nov. 21)
Because you are so sensitive to cosmic vibrations and driven by your emotions, you'll likely pick up on the subtlety of the Moon's cycles this fall, and you can use them to help you make important changes in your relationships. The weighty planet Saturn brings great gravity to your personality starting on October 5, when he moves into your sign. With Saturn in Scorpio, you'll be very serious about who you are and what you want from the significant others in your life. Pay attention to how you feel on October 29, just after the Sun enters your sign and the Full Moon shakes up your 7th House of Relationships. This energy can give you the incentive to take more proactive steps toward a more abundant sex life. Lastly, the Solar Eclipse in your sign on November 13 is ready to help you reach any make-or-break decisions.
Sagittarius (Nov. 22 - Dec. 21)
You'll be on the march this fall as Mars fuels your feistiness during its long visit to your sign through November 16. With the power of this planet in your 1st House of Personality, though, you're going to have to tone it down some. You're already the life of the party wherever you go, but now you could very easily -- and accidentally -- go over the edge and just plain come on too strong. While you have your foot placed firmly on the gas, your partner may be responding to Jupiter's retrograde warning to think about putting on the brakes. Then, when Mercury goes retrograde in your sign for most of November (6 - 26), you'll be rethinking your own position about commitment, love and/or working hard to perfect a long-standing liaison.
Capricorn (Dec. 22 - Jan. 19)
This fall, you won't find it easy to have a more fulfilling relationship -- or maybe any kind of romance at all -- if you remain aloof and quieter than you probably should be. Use the power of Mercury Retrograde in your 12th House of Contemplation, from November 6 - 26, to help you formulate your ideas and construct a strategy that's sure to win the partner of your dreams. By the time active Mars and transformative Pluto meet up in your sign at the end of the month, you'll be more than sure about what you want, and totally capable of explaining it to the one you wish to woo. And if you want to get warmed up first, use the Full Moon in fellow Earth sign Taurus on October 29 to light up a special date.
Aquarius (Jan. 20 - Feb. 18)
Fall isn't usually the most romantic time of year for you, Aquarius. There's just something about the crisp air and the positions of the planets that inspire you to focus more on the intellectual and professional sectors of your life, not your heart. But don't let this concentration on other things ruin your romance or keep you out of the arms of an ardent lover. Find ways to share the experience of broadening your horizons this fall: Take a class together, or go away to an exotic locale that either serves as a backdrop for another chapter in your long relationship, or if you're single, provides opportunities to encounter sexy strangers. These romantic possibilities should peak after October 28, when Venus enters Libra and your 9th House of Adventure.
Pisces (Feb. 19 - March 20)
This fall, you'll be as sexy and emotionally open as you can be once Saturn finally leaves your 8th House of Intimacy on October 5. Celebrate by arranging a weekend away with your lover, where it's just the two of you, Venus' magic, and a big bed! If you're single, be open to reuniting with someone you might have known way back when: Jupiter's retrograde through your 4th House of Roots starting October 4 may rekindle an old flame. If you're already with the one you love, the two of you may enjoy time with or as a family this fall. Expect some sweet gestures and warm-hearted moments when the Lunar Eclipse lights up your 4th house on November 28.
Get personal love advice with a Love Celtic Cross Tarot reading now »