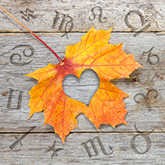 Fall Love Horoscopes 2014
Will you warm up to a new romance this autumn?

As the wind begins to whistle and the Sun's rays turn away from summer warmth, you might wonder what the change of season's means for your love life.
Romance becomes reflective this fall, thanks to a Mercury Retrograde cycle through relationship-oriented Libra. In addition, two potent eclipses may leave a few of you in the throes of change relating to your identity within a partnership. Your intimacy quotient may also need some recalibrating.
Find out what's coming up for you with a Big Picture Love Forecast!
Thankfully, it's more than possible for you and your sweetie to hold hands through it all. Oh. and if you're getting married, November 1 will be the most glorious wedding date this autumn! Ah, the planets will certainly prompt a fair share of singing and crying this season when it comes to love.
Be sure to read your zodiac sign's fall love horoscope below to navigate the shift in cosmic weather!
Aries (March 21 - April 19)
Passion leads the path to perspective this fall. A difficult Lunar Eclipse in your sign on October 8 may hinge upon a defining moment in your life. If you're tired of compromising who you really are because of circumstances within your relationship, there might be a turning point -- and it won't be neat and pretty. On October 4, Mercury turns retrograde in the area of your chart that rules depth and intimacy, but on October 10 he'll backpedal into your partnership sector. The good news is that through October 25 you'll carefully re-evaluate your love life and make any necessary modifications. The bad news? Those adjustments might crack loudly.
Taurus (April 20 - May 20)
A fresh start in your marriage or a committed relationship is possible after a potent Solar Eclipse in your partnership sector on October 23. This new beginning is made even sweeter by Venus entering the same part of your chart on this day. If you've been dating someone, it's possible that wedding bells are in the air -- or at least a solid step up in your commitment to one another. October 27 and December 14 are days that gleam with fairy-tale romance potential. If you're getting married, November 1 will be a magical day! Even if a marriage isn't happening, this day will still prove to you that love can conquer all.
Gemini (May 21 - June 20)
There might be more drama in your love life this fall than you'd like. Mercury, your ruler, turns retrograde on October 4, and on October 10 he'll backtrack into your romance sector, causing all sorts of chaos. Until October 25, you might second-guess every decision you've made recently about your love life. Are you with the right person? Should you give that ex a second chance? Why doesn't your lover understand and listen to you? These are only a few of the myriad of questions you're likely to grapple with during this time. Fortunately, love planet Venus will also be in your romance sector during this time (from September 29 to October 23), helping you smooth over whatever happens in the communication department. Still, October 8 and 11 will be especially dicey. Perspective is possible on October 17, and after November 21 you'll be in a much happier place. Ahhh -- there is hope!
Cancer (June 21 - July 22)
There's a ton of power potential for you this fall when it comes to love and relationships. The key to utilizing all of this energy is recognizing that you are the one in the driver's seat. How deep are you willing to go in order to uncover the buried treasure of transcendental love? If you are ready to go the extra mile underground, then you have every opportunity for reward. Events after October 23 will lead to this revelation. Your best days for love are November 1 and 12. Are you married or in a committed partnership? From October 26 to December 4, you'll be willing to fight to protect the structure of your relationship. Just don't start arguing for argument's sake. That would be a shame.
Leo (July 23 - Aug. 22)
Romance heats up for you in late fall -- just when you'll want to have someone to snuggle with most! On November 16, amorous Venus enters your 5th House of Pleasure, Dating and Love, where she'll remain until December 10. In addition to this, a New Moon lights up the same area of your chart on November 21. All of this suggests delicious possibility for you and someone special. If you're single, this will be the very best time during the next season to begin dating that person with the power to make your knees weak. If attached, sparks will fly as if you've just met. December 4 will be a five-star lucky day in love for you, thanks to Venus making a perfect aspect to lucky Jupiter in your sign. Yes!
Virgo (Aug. 23 - Sept. 22)
With Mercury Retrograde (your ruling planet) in relationship-oriented Libra from October 10-25, it's likely you and your lover will spend time this fall re-evaluating what you each bring to the table financially. This area of your life might become extra contentious near the October 8 Lunar Eclipse, and also on October 11. Try not to quarrel so much about money and control over resources that it distracts you from addressing the underlying issue: feeling truly valued in your relationship. Are you single? From October 26 until December 4, your libido will be in high gear, and you'll feel extra motivated to find someone to share the love with!
Libra (Sept. 23 - Oct. 22)
The good news for you, Libra, is that between September 29 and October 23 you'll be stunning. You'll be truly magnetic, and if there's anyone you want to attract your way now there is simply not much this person will be able to do to resist. The bad news? As soon as you open your mouth, you may send mixed signals. Mercury Retrograde begins on October 4, and from October 10-25 he'll be retrograde in your sign. This suggests you'll need to carefully consider your words before you express them. Adding to the trouble is an angry Lunar Eclipse in your partnership sector on October 8. If you're married or in a committed partnership, there may be strife. No more sweeping things under the rug, Libra -- it's time to handle those nagging problems between you and your mate.
Scorpio (Oct. 23 - Nov. 21)
Mercury Retrograde begins in your sign on October 4, but it's not until it backpedals into your 12th House of Privacy on October 10 that you'll notice how much extra solitude you need to work out a relationship muddle. Your mind may continue to feel pushed and pulled until October 25, as you grapple with a vital decision about this situation between you and someone close. Fortunately, a supportive Solar Eclipse in your sign on October 23 signals that you'll be ready to step out in a new direction. Your relationship will only continue to be empowered between October 23 and December 16, thanks to love planet Venus blessing your sign. Your love life will improve, plus you'll look pretty. Bonus!
Sagittarius (Nov. 22 - Dec. 21)
Love will not be easy-breezy for you as we head into the fall season. A tense Lunar Eclipse in your romance sector on October 8 may signal the ending of an affair. If you have been dating someone for a while but realize the relationship is not growing, it may be time to part ways. Unfortunately, the breakup isn't likely to be smooth. Do what you can to end this gracefully if the ending is in your hands. Fortunately, things get much lighter between November 16 and December 10, and you may attract new love into your life with ease. You'll also feel happier and hopeful after November 21, thanks to a New Moon in your sign. By December 6, you might be in an entirely new relationship. Or, if still attached, your current relationship will be completely made over.
Capricorn (Dec. 22 - Jan. 19)
You're on fire between October 26 and December 4, thanks to Mars touring your sign for the first time in two years. When Mars is in your sign, it fills you with incredible stamina and motivation to go after whatever you want. In terms of your love life, Mars in Capricorn will enhance your libido and your confidence. You'll pursue the object of your affection with a steady stride, and he or she will be unable to resist your earthy charm! A Full Moon in your romance sector on November 6 will punctuate matters of the heart even more for you. A new relationship might deepen, both physically and emotionally. You'll be ready!
Aquarius (Jan. 20 - Feb. 18)
As always, your love life tends to become slightly bewildering with Mercury Retrograde. That's because Mercury happens to rule your true love sector. Knowing this can help you navigate where and how any particular Mercury Retrograde phase will affect you and your sweetie. Mercury will be out of whack from October 4-25, and during this time it's possible you and your love will have miscommunication, or experience disagreements relating to your spiritual views. If single, November 16 through December 10 will be your best time to find romance by expanding your social horizons. Join a new group or organization and attend meetings. Someone sexy might sit right next to you! You may also decide to set up a profile on an Internet dating website during this time. A friend might also become a lover, and if so you'll be in heaven!
Pisces (Feb. 19 - March 20)
Are you married or in a committed partnership? You and your mate are likely to have your fair share of miscommunication from October 4-25. In particular, this will likely revolve around a joint financial matter. How are you sharing your resources? Who pays for what? What are you investing money in, and how are your plans for retirement? These questions and more are likely up for revision now. The good news is that if you take a deep breath (and the advice of a financial expert) you and your partner can put yourselves in a beneficial financial position. First, however, a few changes are needed. Single? Your best opportunity for romance this fall happens after December 10. It might be worth the wait.
Look up your love life for the entire next year with a Big Picture Love Forecast now »