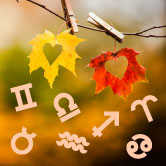 Fall 2016 Love Horoscopes
A full spectrum of love and change

This fall, your love life might run the gamut from incredible to chaotic! Venus moves fast, traveling through four signs in what seems to be record time. As a result, you'll need to keep up with her changing tastes and romantic styles.
While Venus moves through Scorpio from September 23 - October 18, she'll be in a happy place, offering you deep, soul satisfying love potential. Once she shifts into Sagittarius however, the mood shifts too. On October 25 and October 29 she'll be at odds with Neptune and Saturn respectively. A romantic bubble might burst, leaving you deflated.
Venus moves into Capricorn on November 11, offering another stretch of beauty and transformative romantic potential through December 7. But on November 29, Venus and Uranus square off. Then, you can expect the unexpected.
Finally, Venus enters Aquarius on December 7, and for the rest of the fall season you and your lover will enjoy the quirky affinities you share.
Get personal guidance for the changes in your love life with an 11-Card Love Tarot reading now.
See how all these movements will impact YOUR life throughout the fall season with your signs Fall Love Horoscope below!
Aries Horoscope (March 21 - April 19)
Finances between you and your partner improve nicely this fall. You can expect a joint investment to profit in early October. Romance becomes confusing and frustrating from October 25-29, though. You and your lover might realize that you have very different perspectives on a matter that tugs at your moral compass. But love is grand again on November 5. If you're single, an unexpected encounter with someone captivating is possible. After December 7 you'll explore how much you and your partner really have in common, and a friend might even turn into a lover.
Taurus Horoscope (April 20 - May 20)
Love is divine for you this fall! Expect an extra phase of harmony between you and your mate through October 18. You might become engaged or married during this time. If you're already hitched, you and your partner will deepen your bond in an extraordinary way. A shared aspiration might be pursued together, and if so, it'll bring you even closer. One hiccup in your love fest might happen on October 29, if you discover that you and your mate have to clean up some shared debt or address a major joint expense. You'll take care of it.
Gemini Horoscope May 21 - June 20)
You and your sweetheart might make a firm commitment to improve your health this fall. Expect positive results and plenty of will power to achieve them. Your partner will be your coach and cheerleader when necessary, and you'll be sure to return the favor. The seriousness of your relationship comes into heightened importance from October 18 - November 11. Venus will tour your partnership sector during this time, offering a cosmic buffer to smooth over rough relationship edges. Disappointment however, is possible between October 25 and 29, when you'll have to accept a situation, or move on. Whatever your decision, you'll make it with grace.
Cancer Horoscope (June 21 - July 22)
This fall you'll have plenty of opportunity to snuggle up with someone special. Between September 23 and October 18, Venus will make her way through your true love sector. During this transit, she'll embrace Neptune on October 1 and Pluto on October 5. If single, this will support meeting someone new with real soul mate potential. This person will also be deep -- nothing at all shallow about him or her. If attached, you and your partner have an opportunity to fortify your bond at the most satisfying level possible.
Leo Horoscope (July 23 - Aug. 22)
You'll have plenty of romantic potential this fall, but it might prove to be a little bit confusing or frustrating at times. October 18 to November 11 will be an ideal time for singles to meet someone new, as Venus will tour your true love sector. Be careful around October 25 though -- someone you want to believe is perfect might sorely disappoint you. Then, on October 29 you'll have an easy time deciphering if love is real, and if the person you're with can sustain your needs. After December 7, partnered Leos will enjoy a lovely stretch of harmony with their mate.
Virgo Horoscope (Aug. 23 - Sept. 22)
Your love life might not be a central focus this fall, but there will still be a few bright spots to look forward to. On October 1 you and your mate could have the kind of conversation that rekindles the most sentimental bond between you. You might also talk about spiritual matters, or just be more romantic than usual together. On October 5, expect a day of steamy romantic potential. Finally, Venus tours your true love sector from November 11 to December 7, and you and someone special will be in sexy overdrive on November 25.
Libra Horoscope (Sept. 23 - Oct. 22)
Communication between you and your sweetie might be dicey from October 25-29. One of you might catch the other in a lie, leaving you to question the level of trust you share. Or, it's possible that you will need to make a difficult decision together. All is well by November 5 though -- you'll share bright ideas with your lover and find that you're stimulated by juicy conversations. But beware: A family squabble between you and your mate might get out of hand on November 29. If you're single, love potential blossoms after December 7. Be open.
Scorpio Horoscope (Oct. 23 - Nov. 21)
With Venus in your sign early this fall, you're sure to capture attention from others. Until October 18 you'll enjoy this ultra-sexy, magnetic edge. You'll look and feel more beautiful, and this confidence can only translate into positive vibes with someone else. Pay attention to October 1 when a fairytale love story unfolds ... with you as the star! Then, on October 5 you and your lover might have a potent conversation that strengthens your bond. Steer clear of financial decisions with your lover on October 25, however. Then, allow a new lover to meet your family after December 7.
Sagittarius Horoscope (Nov. 22 - Dec. 21)
Romance might not be so easy this fall. It appears you've got some work ahead, and you might need to take off those rose-colored glasses for good. First, on October 25 Venus will square off with Neptune. You might feel sorely disappointed in how your lover gels with family, or with a situation that is happening in your living space together. Then on October 29, Venus and Saturn collide in your sign. You might have to face why you're feeling so "unbeautiful." Is it because you're in a relationship that has gone cold? Only you can decide. If single, sparks might fly on November 5 -- pay attention to who you meet.
Capricorn Horoscope (Dec. 22 - Jan. 19)
Early in the fall your social life will be the key to your love life potential. Be sure to attend group events and parties from September 23 to October 18. A soulful conversation with someone you meet on October 1 might be the start of something beautiful. And you'll have a dose of irresistible intensity on October 5 -- don't waste it! Then, from November 11 to December 7, Venus will be in your sign, making you the fairest of them all. If you're already in a relationship, you'll likely feel more valued and loved by your mate. If single, expect plenty of attention.
Aquarius Horoscope (Jan. 20 - Feb. 18)
Social tension is possible this fall, and it might cut into your love life. Between October 25 and 29, you might have a wakeup call from one of your pals who bursts your bubble about someone you have a crush on. Or, it's possible that the friend you thought might become something more really isn't all that into you. Your salvation this season occurs after December 7 when Venus enters your sign. By then you'll have a shot at attracting the person who is right for you.
Pisces Horoscope (Feb. 19 - March 20)
If you're single, it's possible that you'll set your sights on someone this fall who has a background quite different than yours. Between September 23 and October 18, Venus will tour the area of your chart connected to other cultures, religion, and philosophy. Keep an open mind and discover how that might translate into deep and meaningful romantic potential. After November 11, you and your sweetheart might work intently on manifesting a shared aspiration. Together, nothing can stop you.
Get an 11-Card Love Tarot reading for more guidance in love right now! »