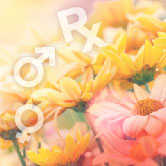 Spring Love Horoscopes 2016
Romance is a bit rocky in the spring season...

If you have high hopes that love will blossom this spring, you might want to manage your expectations. For the most part, getting what you want physically and emotionally will be quite challenging this season...
Mars, the planet of assertive drive -- and the planet ruling libido -- will come to a screeching halt on April 17. He'll retrograde for the rest of spring, and won't resume direct motion until early summer. This is a time you want to avoid starting a new sexual relationship at all costs, because satisfaction may elude you. Instead, reconfigure your goals in life, love, and the pursuit of happiness.
Get personal guidance for this tough season of love with an 11-Card Love Celtic Cross Tarot reading now.
Be sure to read your sign's individual spring love horoscope because the universe did sprinkle this spring with just enough love potential to keep us all going until the summer!
Aries Horoscope (Mar 21 - April 19)
This spring you are out of luck when it comes to romantic potential. A testy Lunar Eclipse in your relationship sector on March 23 sets the tone for potential trouble. Sure, you'll have love planet Venus in your sign from April 5 - 29, helping you look and feel more beautiful, but that confidence might quickly wear thin.
Your ruling planet, Mars, will station retrograde on April 17, and this will put the pause button on you in just about every way. The spring is not your season for love. It's your season to re-evaluate your goals and sit tight before jumping into your next adventure. You need to rest this season, Aries. At least you'll be a sleeping beauty.
Taurus Horoscope (April 20 - May 20)
Before you rule out any romantic prospects ... keep reading. You are one of the select few signs this spring with the capacity to love and be loved in return in the most extraordinary way. It's all about timing. Between April 29 and May 23 your ruler, Venus, will move through Taurus. As a result you'll enjoy a lusty, magnetic allure that others will find impossible to resist.
What makes this even sweeter for you is the fact that the very BEST week for romance this spring has your sign center stage. The week of May 9 will delight you romantically thanks to Venus making gorgeous links to Neptune, Jupiter, and Pluto. It's a short window, but this week will pack enough love in it to sustain you all the way until summer. Enjoy!
Gemini Horoscope (May 21 - June 20)
You might have some unresolved tension to work through this spring in the relationship department. With Mars turning retrograde in your partnership sector between April 17 and May 27, it might be a time of frustration rather than satisfaction. If you're able to navigate this territory with patience and understand that partnership goals must be re-evaluated, you'll get through it as a couple even stronger. If, however, you fall into the trap of keeping your strong emotions bottled up inside, you might make a judgment call about the relationship without even giving it a fighting chance.
Cancer Horoscope (June 21 - July 22)
If you're not feeling the love this spring, keep reminding yourself that the tail end of the season will kick off incredible romantic and sexual potential for you. Until then however, there is some frustration.
Mars will retrograde from April 17 until June 29. During the stretch between May 27 and June 29 however, he'll backtrack through your true love sector. As a result, it is not your time to enjoy a new sexual relationship with someone you're dating. Instead, keep it platonic until early summer, or else you'll run the risk of terrible sexual compatibility, despite the chemistry you share.
Even if you're in a relationship, you may notice a cooling off period between you and your sweetheart. Fortunately, it's temporary. After June 17 Venus enters your sign and your appeal will be off the charts.
Leo Horoscope (July 23 - Aug. 22)
You and your partner might begin this spring with an uncomfortable but illuminating conversation about your love connection. A testy Lunar Eclipse in your message sector on March 23 will signal a turning point or decision about your love life.
On April 17, Mars will turn retrograde in your 5th House of Romance and Pleasure. This will not be an ideal time to begin a brand-new sexual relationship with anyone. You might think things are all hot and heavy, only to be incredibly disappointed once Mars turns direct again on June 29. You might also spend this time re-evaluating your sexual needs in general. That would be a good way to channel this retrograde cycle.
Virgo Horoscope (Aug.23 - Sept. 22)
For the most part, matters of the heart will be positive for you this spring. If you're partnered up, there will be plenty of activity between you and your mate connected to joint finances from April 5 - 29. In this regard, the news looks promising. The two of you might make decisions about investments or even consider purchasing a home together. If the latter is true, be patient after April 17, when the two of you might need to re-strategize domestic plans.
You'll also have a delicious week for love starting May 9. Jupiter in your sign will embrace love planet Venus on May 10, and then Venus will be at a perfect angle to empowering Pluto, now in your true love sector, on May 13. This week will be the most romantic one all spring ... don't waste it!
Libra Horoscope (Sept. 23 - Oct. 22)
Spring begins in the most emotionally charged way possible for you. A Lunar Eclipse in your sign on March 23 will lead to a potent awakening as it relates to your feelings for someone special. Love might deepen or disintegrate, but there won't be much in between.
If you are in a committed union, April 5-29 will be especially sweet for you thanks to Venus touring your relationship sector during this time. Although Mars, the ruler of your 7th House of Partnership, turns retrograde on April 17, it won't lead to disaster if you have substance between you. Instead, you may notice that it's easier for the two of you to compromise. How bad can that be?
Scorpio Horoscope (Oct. 23 - Nov. 21)
Your obsessive nature and overall intensity might calm down a bit this spring, thanks to your co-ruler, Mars, turning retrograde from April 17 - June 29. This retrograde phase will affect you in a personal and dynamic way from May 27 - June 29, when Mars backtracks through Scorpio. As a result, you might not feel as motivated to pursue new romantic or sexual experiences. Instead, you may prefer to lay low and take a time out in the love department.
If you are in a committed relationship however, you'll have incredible prospects for harmony from April 29 - May 23, while Venus tours your relationship sector. Beautiful!
Sagittarius Horoscope (Nov. 22 - Dec. 21)
There's a mixed bag for you in the romance department this spring, Sag. On the one hand, Venus will tour your 5th House of Love and Pleasure from April 5 - 29. This suggests an auspicious time to meet someone new and fall in love if you're single. The problem however, is that on April 17 Mars, the planet ruling motivation and libido, will turn retrograde. Adding insult to injury, he'll retrograde in Sagittarius until May 27 (then it'll be Scorpio's turn). This is a double edged sword for you. Sure, you might meet the person of your dreams. But if you make the relationship sexual too quickly, you might experience nothing but disappointment. Take your time.
Capricorn Horoscope (Dec. 22 - Jan. 19)
You are one of the luckier signs this spring when it comes to love potential. In fact, if you're single, pay close attention to April 29 - May 23. During this time Venus will tour your romance sector. With Venus in Taurus, your fellow Earth sign, you'll be in the most enviable position to meet someone new and even fall in love. In addition, the romantic connection will be quite earthy and sensual, much to your delight!
Circle in red the week of May 9. This will be the most magnificent week for love for the entire season! On the 9th, if you're in a committed relationship, you and your sweetheart will enjoy a special connection of unconditional love. May 13 brings a trine between Venus and Pluto, now in Capricorn. The power of love will consume you this spring, in a good way!
Aquarius Horoscope (Jan. 20 - Feb. 18)
April 12 might be a lucky day in love for you this spring. If you and a friend think you're ready to explore that mutual chemistry, this is the day to go after it. Be certain to act before April 17 however, because after that time there won't be much of an opportunity to initiate a new sexual relationship with someone in your social circle. Things will get messy in your love life until late spring. Fortunately, you'll have May 24 - June 17 to make strides in romance. Venus will tour your true love sector during this time. Work it!
Pisces Horoscope (Feb. 19 - March 20)
You'll feel beautiful and confident as spring begins, thanks to Venus touring Pisces until April 5. March 26 might be an extra special day for you in matters of the heart, since love will run deep.
Communication between you and your sweetheart appears to be an interesting theme this month as well. Venus will move through your message sector from April 29 - May 23, offering an opportunity to make decisions together peacefully. You might have to re-visit a few unfinished conversations, but thankfully you'll both want to resolve matters rather than continue to sweep things under the rug.
Get a Love Celtic Cross Tarot reading now for more personal insight »