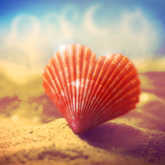 Summer Love Horoscopes 2013
Will your love life heat up along with the weather?

Summer can be the most fun and frisky season for romance -- but is the universe ready to comply? This summer might begin on a slow note when it comes to romance (and everything else) but don't worry -- there will be plenty of opportunity to enjoy tender loving once Mercury finishes off his retrograde phase by July 20. Even so, the first half of summer won't be a total wash for everyone. Read on to learn how hot your summer is really going to get! And to see how your birth chart looks for this coming summer time, try running a Big Picture Love Forecast!
Aries (March 21 - April 19)
Aries, you don't care that Mercury is retrograde -- Venus in your 5th House of Romance is not to be wasted! From June 28 to July 22 you'll want to accept that first date with someone who makes your heart pound since feelings are likely to be too strong to wait out the Mercury Retrograde fuzz. Sure, you'll really know where you stand with your new love connection after Mercury turns direct on July 20, but Venus in your 5th house is like having strawberries and champagne -- it's a winning, delicious combination that you must taste -- not matter what the cost! Mars, your ruling planet of passion, will enter your romance sector on August 27 and for the rest of the summer you'll be interested in nothing but the pursuit of pleasure!
Taurus (April 20 - May 20)
The most beautiful time for you to enjoy summer love won't begin until July 22 ... but it'll certainly be worth the wait! Not only will Mercury be direct by then but you'll also have Venus -- your ruling planet of love -- enter the 5th House of Fun and True Love. This annual transit promises that until August 16 you'll have an exceptional edge to attract romantic opportunities your way. What's even more divine is that on August 2 Venus and Mars (the cosmic lovers) will be in a sexy embrace. This will help you enjoy passionate communication with someone special that will surely lead to passionate action!
Gemini (May 21 - June 20)
As summer begins you're likely to be quite sexy ... but also confused. Mars is in your sign until July13 which will help enhance your sex appeal. Unfortunately, Mercury -- your ruler -- will be retrograde until July 20 and that might lead to you sending mixed sexual signals to someone ... or several people. Yikes! Don't worry though, your summer won't be a total wash. You'll just be a late bloomer. On August 16 Venus will enter your 5th House of Romance and until September 11 you'll have plenty of opportunity to get things right in the love department.
Cancer (June 21 - July 22)
Love for you is all about transformation these days and the lazy days of summer aren't likely to change that. Back in April you had a significant Lunar Eclipse in your romance sector and it's possible that you're still licking your wounds from a nasty break up. Saturn, the planet of restriction but also commitment, is in your 5th House of True Love as well so it's an extremely karmic time for you in matters of the heart. When it comes to love, the universe wants to make sure that you're not settling for anything less than you deserve. Sometimes, we need to go it alone in order to realize what we truly merit. If you're attached, then this summer love will be all about regeneration. You'll learn how to keep the promises you make without forgetting about pleasure.
Leo (July. 23 - Aug. 22)
Leo, you're not "yourself" as summer begins. Usually, you're one of the most social signs of the zodiac and you wouldn't dream of missing the hottest parties or public events. From June 26 to July 20 however, Mercury will be retrograde in the most hidden area of your chart and you might prefer -- or even need -- to spend more time alone in order to hear yourself think. As a result, romantic opportunities aren't exactly going to be readily available. There is a glimmer of hope however in that, from June 27 until July 22 you'll have Venus in your sign. Try going to quiet venues like bookstores, a yoga class or a spiritual retreat. Love may find you there.
Virgo (Aug. 23 - Sept. 22)
Virgo, since Mercury rules you, you may feel off your game in more ways than one as the summer begins. From June 26 to July 20 there might be more than a fair amount of miscommunication in your world -- particularly on the social scene. Fortunately, the planets are saving your best romantic astrology for mid-summer, long after Mercury is back on track. On July 22 and until August 16 Venus will be in your sign making you the "fairest of them all." Your powers of attraction are incredible and you'll enjoy more confidence to help you in matters of the heart. Venus will be at a gorgeous angle to Mars on August 2 and it's quite possible that a friend may turn into a lover. If you're attached, on July 26 you might have a few doubts about your relationship but you'll feel determined to stabilize things.
Libra (Sept. 23 - Oct. 22)
A Full Moon in your 5th House of True Love on July 22 might shine a bright light on romantic matters for you. If you're dating someone new and find that your feelings are quickly deepening then you might decide to share those tender first declarations of love to one another. You might even take the relationship exclusive. If, however, you're caught in a dead end romance then this Full Moon will make things so emotionally intense, you'll need to bounce. Yet another Full Moon will fall in the very same area of your chart on August 20 – a rare occurrence indeed. If the life altering romantic changes don't occur in July, then by August they'll be unavoidable.
Scorpio (Oct. 23 - Nov. 21)
Romance may continue to feel like one endless series of tests for you Scorpio. With Saturn in your sign, along with the recent Spring Eclipses in your sign and your partnership sector, adjustments in your relationship have been inevitable. You're trying your best to take responsibility for yourself and for how your personal decisions affect your partner. Thankfully, by late summer you might finally feel as if you've got things back on track in the love department. Venus will be in Scorpio from September 11 -- early fall and on September 18 when Venus and Saturn connect, along with a supportive link from Venus to Pluto, you'll know that true love will always endure.
Sagittarius (Nov. 22 - Dec. 21)
This summer, you're one sign who can anticipate a stronger focus on the more erotic side of life. Admittedly, early summer might be a bust thanks to the influence of Mercury Retrograde in your 8th House of Deep Intimacy. Still, Jupiter, your ruling planet of expansion, enters this same area on June 25 and isn't going anywhere for an entire year. During the early weeks of summer, while Mercury is retrograde, you'll focus on revising your attitude and ideas about intimacy. Perhaps even conquering any fear associated with deep psychological and sexual sharing. Mars will join this 8th House party on July 13. Then, on July 20 Mercury will turn direct and you'll be able to put this revised mindset into action.
Capricorn (Dec. 22 - Jan. 19)
The energy you'll have to work on a successful committed partnership this summer is simply extraordinary. Jupiter, the plant of expansion and abundance, will enter your relationship sector on June 25 and will remain here not just for the summer -- but for an entire year. Expect plenty of growth and optimism between you and your mate. But first, expect confusion. That's because on June 26 and until July 20 Mercury will be retrograde in the same area of your chart. You and your partner will have a tendency to blow things out of proportion for a few weeks so be sure to take the time to really listen to what the other has to say. Also, on July 14 and until August 27 Mars will be in your 7th House of Partnerships as well. You're definitely motivated to relate.
Aquarius (Jan. 20 - Feb. 18)
You might be too exhausted for love this summer since it appears work will take up most of your time. Still, there are a few nice pockets of romantic opportunity and if you play your cards right, you'll enjoy them. From June 26 to July 20 Mercury, the ruler of your 5th House of Romance, will be retrograde. It's possible that someone you dated in the past will come around, asking for a second chance. This will be doubly likely if that person is someone you used to work with -- or still do. Then, if you're in a relationship, from July 27 to August 22 Venus will tour your 7th House of Partnership. Harmony between you and your mate is a given.
Pisces (Feb. 19 - March 20)
This summer, it's ALL about love! You'll have an enviable array of planets in your 5th House of Romance starting with Jupiter, the planet of expansion and abundance. On June 25 he'll make a once in twelve year visit to this part of your chart and will remain here for an entire year. When Jupiter is in your 5th House, if you're single it's one of the most auspicious times to meet someone special and fall head over heels in love. Sure, Mercury will be retrograde in this same area of your chart from June 26 until July 20, but that only makes the pot more interesting. An old flame and a new flame might fight over you. Especially considering that Mars -- the warrior planet -- will enter your 5th House on July 13. Expect plenty of heat, whether you're in the sun ... or in your bed!
Don't forget ... to get a look ahead at your love life for more than just spring, run a Big Picture Love Forecast! It shows your romantic projections for all of 2013 »