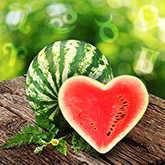 Summer 2014 Love Horoscopes
The temperature is rising...

Get ready! This promises to be one of the sexiest, amorous summers you've had in quite some time. That's because Jupiter, the planet of expansion and "all good things" will enter the quintessential sign of romance -- Leo -- on July 16 and will remain here until next summer! Every other astrological event this season pales in comparison. Whether you're single, attached or somewhere in between, love is in the air. Leo wants to enjoy entertaining, dramatic dates and heart pounding relationships. Jupiter will amplify all of Leo's desire to pursue the pleasures of love. So what are you waiting for? It's time to soak up the Sun and open your heart!
See what's in store for you in your love life with a personalized Relationship Potentials Tarot reading!
Aries (March 21 - April 19)
Are you in the mood for love Aries? Well, ready or not, here it comes! You are the luckiest sign of them all this summer when it comes to romantic potential. That's because on July 16 Jupiter will enter your 5th House of Fun and Pleasure and will remain there for 13 months. A dazzling New Moon on July 26 in the same area of your chart will swing open the door for you to meet someone special if single. Even if you've been married forever sparks will fly everywhere! Expect the romantic delights to get even sweeter from August 12-September 5 you'll feel like you're living the most incredible fairy tale possible. It's time to fall in love with love!
Taurus (April 20 - May 20)
Securing a love in your life that you can rely on will continue to be of paramount importance to you throughout the summer. Saturn, the planet of commitment, has been touring your partnership sector since late 2012 teaching you significant lessons about what it takes to relate. On August 1 love planet Venus will be at a supportive angle to Saturn helping you to appreciate what you have. Acknowledge that the type of partnership in your life now reflects what you've been willing to put into it. If you know there's still work to do, be honest. If you are in love and it's working then be grateful. If single, September 5-28 will be your most auspicious weeks to find romance thanks to Venus moving through your romance sector. September 14 might be especially captivating.
Gemini (May 21 - June 20)
If you're dating someone special or playing the field, sexy love is yours until July 25 thanks to Mars continuing to move through your 5th House of Romance and Pleasure. You've had Mars in this part of your chart for months and likely dealt with more than one problem in your love life over that stretch of time. For the duration of the summer however, Mars will motivate you to pursue pleasure without all the hiccups. After September 13 Mars will begin to tour your 7th House of Committed Relationships. If you're married or in a monogamous partnership you might end the summer with a heated quarrel. Thankfully, since the ruler of your 7th house, Jupiter, will be in your communication sector from July 16 on, you'll have no trouble talking things out. In fact, the quality of communication with your mate will grow tremendously with this energy. Talk it out!
Cancer (June 21 - July 22)
Radiance. That will be your keyword from July 18-August 12 thanks to Venus touring your sign. Your ability to attract -- even magnetize -- others will be extraordinary now so be sure to put your best foot forward and know that it's your time to receive the love you deserve. On July 25 sexy Mars will enter your romance sector and until September 13 your sex life will receive a delicious boost. Saturn has been in this part of your chart since late 2012 and as a result, you might have experienced a dry spell in the bedroom. Now, Mars will help kick start your love life. If you are single and haven't dated in a while, this could be your summer for love. Or a fling. You decide.
Leo (July. 23 - Aug. 22)
Are you ready for the most AMAZING summer you've had in -- oh -- maybe the last twelve years or so? Good! Jupiter, the planet of expansion, abundance and all good things, will enter your sign on July 16. This signals a year ahead of incredible opportunity, personal growth and yes ... FUN! With Jupiter in your sign you can expect to forge incredible new relationships both on the personal and business level. In terms of love, since Jupiter rules your romance sector, you have the potential to make this summer one of nonstop joy. The pleasures of dating, entertainment and true romance are about to return to your world, much to your delight. A brilliant New Moon on July 26 in your sign, followed by Venus entering Leo on August 12 (until September 5) will only add to your ability to manifest whatever you want this summer. Exciting!
Virgo (Aug. 23 - Sept. 22)
A Full Moon in your romance sector on July 12 will shine a light on your love life. How are things going between you and someone you're dating? It's all or nothing in the romance department and if your lover can't meet your requirements, you're likely to lose interest. With the events near July 12 however, you might decide to let go of an unhealthy romantic attachment or, declare your undying love for someone special. Much depends on where you are at that time. A Full Moon in your partnership sector on September 8 will require the same thing if you're married or in a committed relationship. On September 5 and through September 29 you'll enjoy Venus in your sign. This will enhance your powers of attraction and add to your ability to relate to others more harmoniously. You might feel extra romantic on September 10. Allow yourself to be swept off your feet by your mate and don't over analyze the situation.
Libra (Sept. 23 - Oct. 22)
Use the time you have left with action planet Mars touring your sign, to go after what you want in love and partnership! Until July 25 you'll have this edge and it'll truly benefit you if you courageously pursue the type of relationship you've always wanted. Your partner will be pleasantly surprised at your capacity to initiate. It's sexy! On August 10 a Full Moon in your true love sector might lead single Leos to let go of an unhealthy pattern relating to love. If there is someone you've been dating with whom you know in your heart the relationship is going nowhere. Now is the time to be honest with yourself and end it. Move on as friends.
Scorpio (Oct. 23 - Nov. 21)
You might focus more on your stellar career opportunities this summer instead of love. Although the aspects you'll enjoy to help boost your professional life will be truly remarkable, that doesn't mean your love life will suffer. In fact, you will have a few gorgeous aspects you'll want to take advantage of. On July 25 Mars will enter your sign where he'll remain until September 13. During this time you'll have more stamina and sex appeal. Use it well. When Mars connects to a perfect trine to Neptune on August 7 you'll have the potential to make a sexual and romantic fantasy come true. Love will be divine! Then, on September 5 love planet Venus will enter your friendship sector, remaining there until September 29. A friend may turn into a lover.
Sagittarius (Nov. 22 - Dec. 21)
You might feel puzzled about the status of your relationship as summer begins. That's because Mercury will be retrograde in your partnership sector until July 1. Thankfully, after this time you and your mate will clear the air and talk out any misunderstandings. If single, an unexpected love connection is possible near August 1. The problem however, is that, although exciting, it appears fleeting. If you're up for a one night stand go for it. If you're dating someone, you or your mate might throw a tantrum and demand more freedom. Mars will enter your sign on September 13 and at that point, your sex appeal will be off the charts.
Capricorn (Dec. 22 - Jan. 19)
A Full Moon in your sign on July 12 might leave you feeling emotionally sober. If there are any troubles between you and your partner, this lunation will prompt you to address them. If you feel as if your emotional needs aren't being met in a relationship, it will challenge you to consider that feeling fulfilled is really "on you" and not anyone else. Fortunately, when Venus enters your partnership sector on July 18 you'll have an extraordinary opportunity to enjoy an extra phase of harmony with your love. This will last until August 12 allowing you to connect with each other in the most tender, beautiful way.
Aquarius (Jan. 20 - Feb. 18)
Romance might be a sticky situation until after July 1. Mercury will continue to travel retrograde in your true love sector until this date and you might feel frazzled about miscommunication with a lover. You may also feel torn about whether or not to reconnect with an old flame. After July 1 you'll have the clarity you need to make the right decision. If you're in a relationship and it's good, after July 16 it'll get very, very good. But if you're in a rocky marriage or partnership, any problems might blow out of proportion. Jupiter will enter your relationship sector and will remain in this part of your chart until next year. Commitments made during this time will benefit you and if you have a relationship you want to work on, it'll be a great time for counseling.
Pisces (Feb. 19 - March 20)
There's still time to enjoy a whirlwind romance if it has managed to elude you so far this year. Jupiter, the planet of expansion and abundance, will continue to tour your true love sector until July 16. Although Jupiter will leave this part of your chart and not return for twelve years, that doesn't mean you're in for a dry spell. A promising New Moon will illuminate your 5th house of Pleasure on June 27. Then, love planet Venus will slide right into the same area of your chart from July 18-August 12. As you can see, there really is a stunning opportunity for you to fall in love this summer. If you're in a relationship, September 8-29 will allow you and your mate to connect beautifully, fortifying that you can always count on each other.
Now look beyond the summer months with a Relationship Potentials Tarot reading »